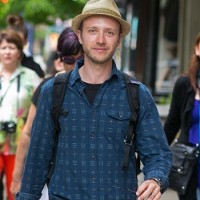 Max is the
founder of CityRover
and lover of all things New York — coffee, bagels, pizza, the subway, street musicians, the hustle and bustle, old bars, great restaurants on little side streets, Central Park, the Brooklyn Bridge, riding the Cyclone, arguing with opinionated locals, and living in a city full of possibilities and chance encounters, replete with so many odd-balls that everyone can feel like they belong.
Max lives in Brooklyn near Prospect Park (his 585-acre "front yard") with his wife (a native New Yorker) and two kids (future NYC history buffs).  When he is not touring, Max spends quality time with his kids, finds peace and quiet in the kitchen (his new "realm"), or with a good book in a neighborhood coffee shop, and plans his next family travel adventure.
Max holds a BBA from Baruch College, City University of New York, and an MBA from New York University.  To learn more about his story, click here.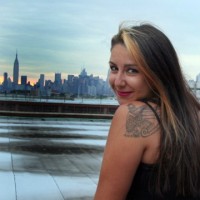 Danielle is first & foremost a Native New Yorker. She is also an artist, traveler, fact-sponge, and licensed NYC Tour Guide.  Born in Brooklyn, Danielle comes from a quintessential NYC melting pot family. A "first and a half" generation New Yorker, her mother's family immigrated to the tenements of the Lower East Side from post-war Eastern Europe.  Her father's family is Italian American, with origins in Naples and roots in South Brooklyn.
When not giving tours, she works as a muralist & painter in NYC & internationally. You can find her work in the Lower East Side, SoHo, East Harlem, Brooklyn; her mural painting has taken her all over Europe, the UK, Central America, the Caribbean & the Middle East.
Danielle's art has been featured in art exhibitions and shows all around NYC. She also volunteers and participates in after-school and weekend art programs and loves to bring art to schools in every capacity when possible. She is also a yogi, a beach bum, & an avid reader – specifically any historical memoirs about NYC.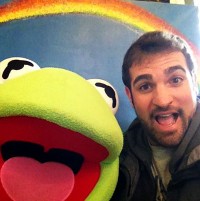 Matt is a "professional New Yorker". Since 2008 he has worked exclusively as a licensed New York City tour guide, telling the story of the city from its streets, subways, skyscrapers, bridges, and waterways.
Matt's thirst for culture and entertainment drove him to the city after growing up outside Philadelphia and attending Ithaca College in upstate NY. Where else can you find top-shelf theater, world-class museums, eclectic music and exciting sports all in the same place on any given day? For Matt, New York City was always the answer.
Though Matt recently moved to Queens after living in Brooklyn for more than eight years, he still keeps it very Brooklyn in his spare time: searching for the perfect cold brewed iced coffee (even in the winter) and adding to his vinyl record collection.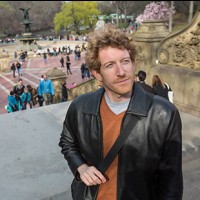 Jonathan has family roots in New York City stretching back over a hundred years, mirroring the classic immigrant experience from Ellis Island to the Lower East Side. This background has inspired an ongoing quest for the best of the city past and present, from the suspension cables of the Brooklyn Bridge to the hot pastrami at Katz's deli. He moved from the depths of Jersey to Manhattan's Morningside Heights at 18 for college and has since split his time between Tel Aviv and New York City.
He studied American History at Columbia University under Kenneth Jackson, one of the all time great historians of New York City. After college he worked in finance before heading back to school in Israel to study for an MA in Archeology from Bar Ilan University.
Jonathan currently guides tours in both New York and Israel, depending on the season. He loves exploring the city's history, from the footprints of George Washington to Malcolm X, and discovering hidden gems from the best pizza slice to the coolest dive bar. He sees New York City as an endless playground of culture, history, and energy where every day seems to yield a new adventure.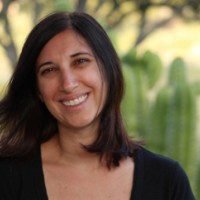 Michele is a teacher and writer who has been writing about her travels for several years. She has lived in countries around the world, but found that New York is the one city that made her want to settle down and grow roots. She loves the bright, glamorous side of New York, but thinks the hidden corners of the city are the most interesting to write about.
When wearing her "CityRover" hat Michele writes articles to help you discover New York and make the most of your visit.