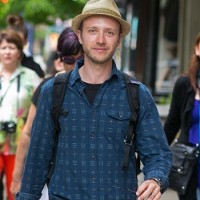 Max is the
founder of CityRover
and lover of all things New York — coffee, bagels, pizza, the subway, street musicians, the hustle and bustle, old bars, great restaurants on little side streets, Central Park, the Brooklyn Bridge, the High Line, riding the Cyclone, arguing with opinionated locals, and living in a city full of possibilities and chance encounters, replete with so many odd-balls that everyone can feel like they belong.
Max lives in Brooklyn near Prospect Park (his 585-acre "front yard") with his wife, two kids (future NYC history buffs), and a lazy cat.  Max enjoys travel, photography, reading, coffee, and has recently discovered he has a knack for cooking (a discovery that was equally pleasing to his wife).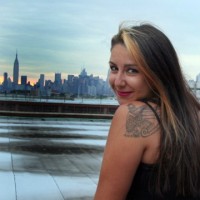 Danielle is first & foremost a Native New Yorker. She is also an artist, traveler, fact-sponge, and licensed NYC Tour Guide.  Born in Brooklyn, Danielle comes from a quintessential NYC melting pot family. A "first and a half" generation New Yorker, her mother's family immigrated to the tenements of the Lower East Side from post-war Eastern Europe.  Her father's family is Italian American, originating from Naples and putting down roots in South Brooklyn.
When not giving tours, she works as a muralist & painter in NYC & internationally. You can find her work in the Lower East Side, SoHo, East Harlem, Brooklyn; her mural painting has taken her all over Europe, the UK, Central America, the Carribbean & the Middle East.
She actively has gallery exhibitions all around NYC as well. Danielle also volunteers & participates in after-school art programs, weekend art programs, & loves to bring art to schools in every capacity when possible. She is also a yogi, a beach bum, & an avid reader – specifically any historical memoirs about NYC.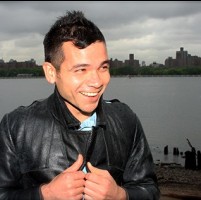 Ryan has a passion for storytelling that likely stems from his constant search for the perfect expressive art form.  He started acting professionally at age 14, began writing poetry and plays in high school, and was a member of the highly insignificant Southern Connecticut hip-hop crew, Muppet Snuff.
After high school, Ryan went on to study acting at New York University, dropped out to work at a sawmill in Montana, then eventually earned a B.A. in Writing from the Jack Kerouac School for Disembodied Poetics in Boulder, Colorado.
In 2009, he returned to New York City, and since, he has worked as an actor, handyman, audio technician, and of course, a sightseeing guide. In addition to currently working on a teaching certificate from Hunter College, Ryan has recently taken up drums, recording mash-ups, and has released two illustrated books, "The young dissenter's handbook, vols. 1 and 2."