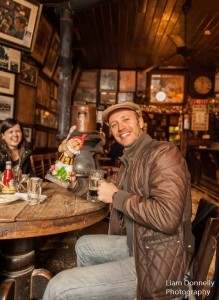 Hi, I'm Max – a New Yorker for 25 years and the founder of CityRover Walks NY.  I started the company in 2010, after spending a few years at a major Wall Street bank.
By late 2008, in the tumultuous aftermath of the bursting of the housing bubble, I had realized that I felt much happier walking around New York City with my camera and learning about its history than staring at Excel spreadsheets on multiple flat-screen monitors on a large trading floor.  So I soon left my job and spent half a year abroad in Spain (under the cover of completing my MBA as an exchange student in Barcelona), or as Catalans pronounce it, "Barthelona".
While abroad, I got to spend a lot of time walking around European cities with the same backpack and camera I carried around back home.  I met all kinds of different and interesting individuals, learned a lot about various cultures, got to hone my people skills, vastly improved my high-school Spanish, and had some of the most memorable experiences in my life.
When I came back to New York as 2009 wound to a close, I was very intent on avoiding a return to the corporate grind in Manhattan and felt very strongly about starting my own business.  I wanted to create something that would deliver some of the same experiences that made my time abroad so rewarding.
And that's how CityRover was born.  It's the anti-Starbucks, anti-Olive-Garden-in-Times-Square, and anti-double-decker-bus-tour company that focuses on some of the things I value most as a long-time New Yorker and avid traveler:  Great local history, culture and food, presented in an intimate, engaging and fun way, along with non-touristy local snack stops.
So whether you've lived in New York your whole life, just moved here, or are only visiting, take a walk with us and discover the city that becomes even more amazing when you see its nooks and crannies and learn about its rich history.
Here is a video clip from a Canadian TV show called "America Over the Edge" featuring yours truly:
And to learn more about me and the CityRover story, check out my e-book, Walking Away From Wall Street, available on Amazon's Kindle platform and the Kindle app for iPhone, iPad, and Android devices.  To read the first two chapters, click here.