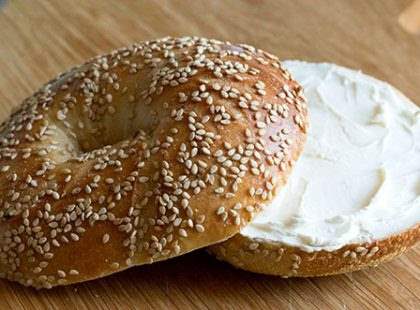 Written by Max Vishnev, founder of CityRover Walks NY
Last updated: June 15, 2016
This guide will help you find the best bagels in NYC, whether you're in the mood for an "everything" bagel with butter, a sesame bagel with cream cheese, or a whole wheat one with fresh lox, tomatoes, and a schmear of cream cheese.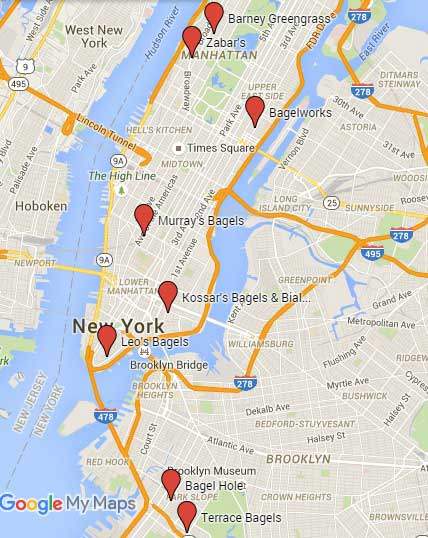 We New Yorkers take some things very seriously: Personal space, real or perceived slights, sports, getting to our next destination, pizza, weekend brunch, and of course, bagels.
New Yorkers have perfected the art of eating on the go, which makes perfect sense for city dwellers who are always in a rush to get somewhere. And no food item lends itself more to eating on the go than a New York bagel baked to perfection.
That's why when many of us move to a new apartment, one of the first things we do is check the neighborhood for a proper bagel joint, because we all know that the worst morning can be mitigated by the best bagel.
Before we get to the best bagel shops, here is a brief bagel history….

The New York City bagel, considered the paragon of bagels, owes its origins to European Jews who brought the bagel to America in the early 20th century. The dough was traditionally rolled by hand into rings, then boiled in a kettle before being baked in a coal-fired or wood-burning oven.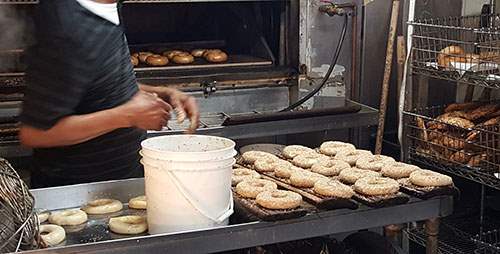 The term "bagel" is an Americanized spelling of the Yiddish "beigel" (sometimes written as "beygl"). This Yiddish word, in turn, is often linked to Middle High German word böugel, which means "ring".
Bagel makers were skilled artisans who were members of the International Beigel Bakers Union (Yiddish spelling). If you weren't in the bagel union and tried to bake bagels, watch out for your knee caps!
The skills and knowledge required to make a proper bagel were "trade secrets" passed down from father to son. That is, until the early 1960s, when the first successful bagel-making machine was introduced in America. That spelled doom for the bagel union and bagel makers.
Mass-produced bagels were (and still are) to real bagels what Wonder Bread is to real bread, but now every American household — from New York to California – could throw one in the toaster and slap some butter on it.
A traditional New York bagel should never be too soft and mushy or dense and dry. It shouldn't be consumed after having been frozen for days or weeks in a supermarket. It should be eaten soon after coming out of the oven. It should be chewy and have a nice crust.
The ingredients are simple: take flour, salt, yeast, and a little bit of malt, then add water. The dough should always be boiled before it's baked to achieve the right "chewy" texture.  But like with NY-style pizza, it's hard to get it right, which is why a lot of businesses try but fail to replicate a "NY" bagel.
Now for the best places to get your hands on a great NYC bagel: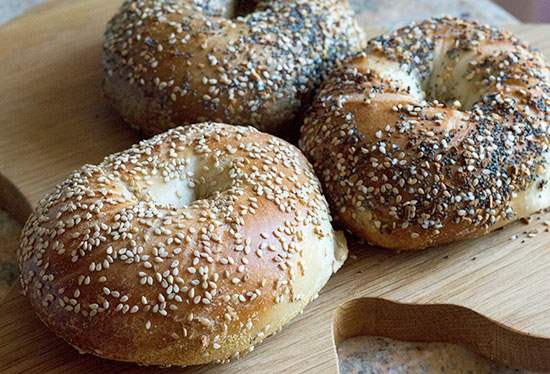 The popular New York bagel shops below all have something in common:
The bagels are hand-rolled and baked on premises in the traditional NY style (not what you buy frozen in a supermarket).
Kossar's Bagels & Bialys
Address: 367 Grand Street
Neighborhood: Lower East Side
Hours: 6am to 8pm daily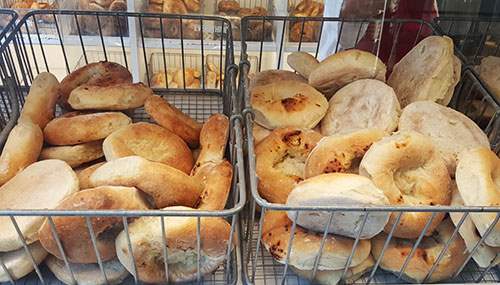 I list Kossar's first for a couple of reasons:
1. They've been baking traditional bagels and bialys (visit Kossar's homepage and click on the "What is a Bialy?" video link) since 1936, so they know a few things about making a great bagel.
2. They are located on the Lower East Side, which a century ago was a huge enclave of Eastern European Jews – the same Jews that brought the bagel to America in the first place.
Stop by for a traditional bagel with cream cheese, or maybe give the bagel's lesser-known cousin, the bialy, a try.  Brought to America by immigrants from Bialystok, Poland, this flatter version of the bagel with a depression instead of a hole is traditionally baked with chopped garlic or onions in the middle. It is not boiled before being baked, which is why it's less puffy than a bagel.
Kossar's is the oldest remaining Bialy bakery in the United States. That should be enough to make you try one!
Planning your NYC visit?
Click here to get on our email list, and we'll send you 5 of our super-helpful NYC guides and suggested itineraries for free!  Plus, we'll send you an exclusive $20 off code your first tour.
Zabar's
Address: 2245 Broadway (corner of 80th street)
Neighborhood: Upper West Side
Hours: 8am to 7:30 Monday through Friday; 8am to 8pm Saturdays; 9am to 6pm Sundays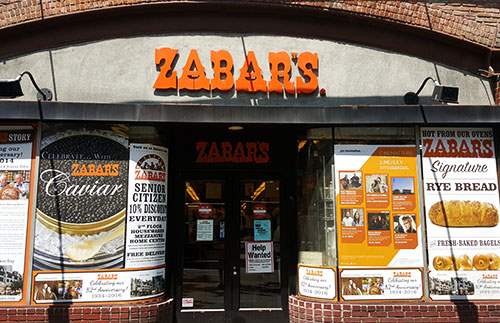 Zabar's is a New York institution, having operated on the Upper West Side since 1934. It is heaven on earth for people who love good food. Sample hundreds of types of cheese, taste all kinds of olives and pickles, then find your way to the bread department and get a chocolate or cinnamon & raisin rugelach to go (a small, traditional Jewish pastry).
But of course, this post is about bagels, and Zabar's knows great bagels. It doesn't hurt that they have a huge smoked fish department either. Grab some fresh bagels, ask for a few slices of lox, and buy a small cream cheese container. Take all this and a plastic knife and head to a bench in nearby Riverside Park (just one block downhill from Zabar's along 80th street).  Or walk a few blocks east for some people-watching on a bench in Central Park.
If the weather is not conducive to eating a bagel on a park bench, then stop by Zabar's corner café – maybe you'll get lucky and score a seat (you'd be competing with locals for those seats, so watch out!).  Here, you can order a bagel with a schmear of your choice at the counter.  Who knows — you might even end up having an impromptu conversation with a real New Yorker!
Barney Greengrass
Address: 541 Amsterdam Avenue (between 86th and 87th street)
Neighborhood: Upper West Side
Hours: Tuesday through Sunday, 8am to 6pm (closed Mondays)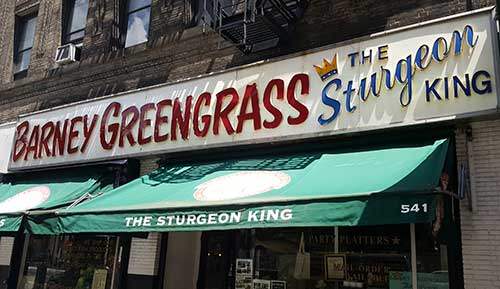 Barney Greengrass, also known as the "Sturgeon King", is another Upper West Side neighborhood staple that's been slicing smoked fish and baking bagels since 1908. Drop by for an "everything" bagel with a generous portion of lox, cream cheese, and a slice of fresh tomato, then take it to go to a bench in Central Park. Or, if you need a rest and there is a table available, enjoy it inside this classic diner.
Bagel Works
Address: 1229 1st Avenue (between 66th and 67th street)
Neighborhood: Upper East Side
Hours: 6am to 9:30 daily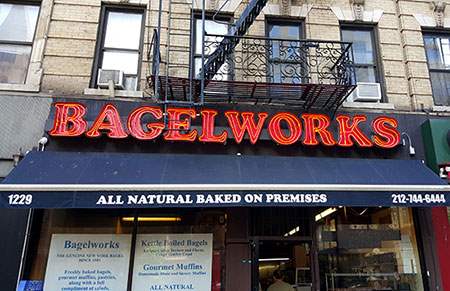 Hop over to the east side for fresh bagels baked on premises since 1983. Bagel Works is an Upper East Side institution. It's a small, no-frills shop, which often has a line out the door. And the reason is clear: the bagels are super-fresh and delicious. In fact, while you're waiting in line to order, you will probably see the bagel baker putting the rolled dough in the boiling kettle or taking the dough out of the kettle and sprinkling some sesame seeds on it, before baking it.
And here is a special bonus:
Come in for the fresh bagels, leave with an oversized blueberry muffin, with a scrumptious, crusty crumb topping — it's a meal in itself. It will be hard to resist walking out with both!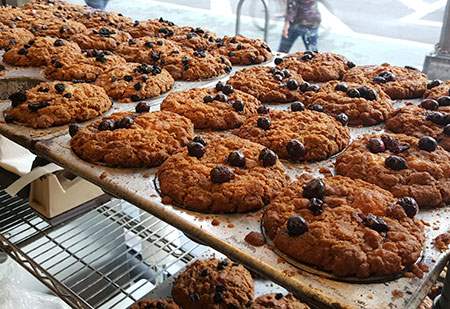 Murray's Bagels
Address: 500 6th Avenue (corner of West 13th)
Neighborhood: Greenwich Village
Hours: 6am to 9pm weekdays; 6am to 8pm weekends
If you find yourself exploring Greenwich Village, stop by Murray's for freshly baked, traditional NYC bagels. Murray's has been a haven for bagel lovers since 1996. And with so much to see and do in the beautiful and historic neighborhood around it, you're bound to need a tasty snack to refuel.
Grab a hand-rolled bagel fresh out of the oven (with a schmear of cream cheese) and head to nearby Washington Square for some live music and people-watching.  Maybe you'll even spot Paul, the Pigeon Man, or Larry, the Bird Man.
Leo's Bagels
Address: 3 Hanover Square (off Stone Street)
Neighborhood: Financial District
Hours: 6am to 6pm weekdays; 7am to 5pm weekends
Leo's was the first real NYC bagel shop to open in the Financial District, which has become one of New York's fastest growing residential neighborhoods. Nestled amid Downtown skyscrapers on a relatively quiet street perpendicular to NY's first paved street, Stone Street, Leo's offers delicious hand-rolled bagels and a full deli counter.
Leo's was founded by Adam Pomerantz, a former Merrill Lynch employee, who left Wall Street to bake traditional bagels. He named his shop Leo's for 2 reasons:
1. His great uncle Leo, who was a Jewish immigrant from Eastern Europe
2. Leo's is an acronym for Lox, eggs, and onions (on a bagel) – a Lower East Side favorite.
So whether you're taking a free ride on the Staten Island Ferry, visiting Alexander Hamilton's grave at Trinity Church, or strolling along Wall Street, drop by Leo's for some fresh NYC bagels you'll love.
And if you crave a good cup of coffee while exploring Downtown, check out our neighborhood guide to the best coffee shops in NYC!
Great Bagels in Brooklyn:
Now, we are going to hop over to the great borough of Brooklyn. In fact, a strong case can be made that Brooklyn offers some of the best pizza and bagels in New York City. The two bagel shops below are actually only a 15-minute walk from each other. Both are near Prospect Park and both bake tasty hand-rolled bagels on premises.
Bagel Hole
Address: 400 7th Avenue (between 13th and 14th street)
Neighborhood: South Slope, Brooklyn
Hours: 7am to 6pm weekdays; 7am to 5pm Saturdays; 7am to 4pm Sundays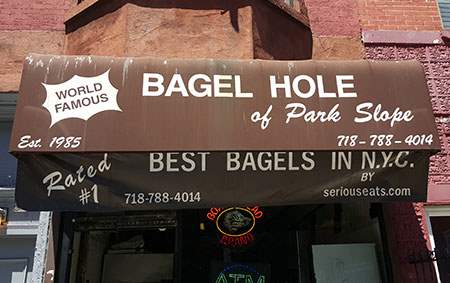 Bagel Hole is as old-school as it gets. Tiny, no frills, cash only. But boy do they know how to make the ideal NYC bagel! And they've been baking them since 1985, so they've had some time to perfect their craft.
They achieve the perfect balance of a hand-rolled bagel that's crusty on the outside yet perfectly chewy on the inside. They are also traditionalists in that the bagels are on the smaller side (which is how they used to be), they don't have a toaster (fresh bagels don't need to be toasted), and they won't sell modern Brooklyn atrocities like "rainbow" bagels with "funfetti" cream cheese!
Grab a fresh bagel with cream cheese and take it to a bench in Prospect Park. Don't forget to bring cash!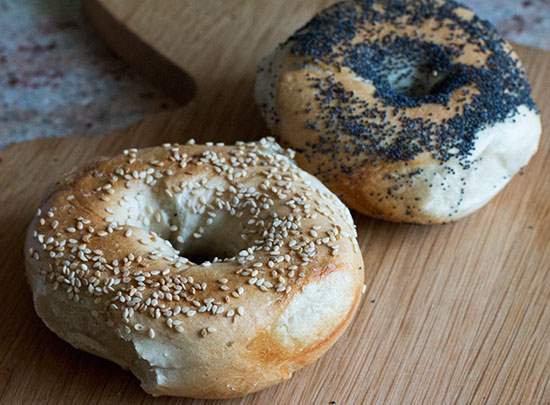 Terrace Bagels
Address: 222 Prospect Park West
Neighborhood: Windsor Terrace, Brooklyn
Hours: 5am to 10pm weekdays; 5am to 11pm Saturdays; 5am to 9pm Sundays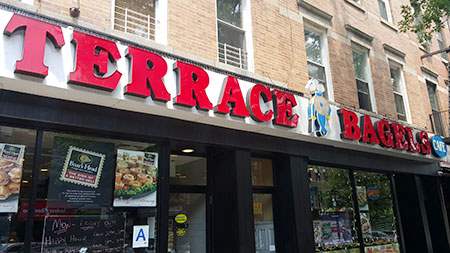 Terrace Bagels cranks out an impressive variety of fresh hand-rolled bagels, and has a full deli counter to satisfy your breakfast and lunch needs. The coffee is mediocre at best, but you're not here for the coffee (go to Aussie-owned Brunswick café down the block if you want a proper coffee).
Side note: If you're a serious coffee drinker, check out our detailed post on the best coffee shops in New York City.
Terrace Bagels has 3 advantages over Bagel Hole:
1. There is a bathroom
2. There is some seating
3. They accept credit cards
It's also a little bit closer to Prospect Park.
The lines could be long on weekends, but they move pretty quickly.
And if you're looking for a custom private tour while in NYC, get in touch with us!  We also offer personalized tours of Brooklyn, as well as NYC food & pub crawls.