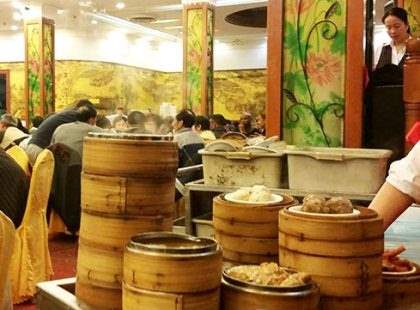 By Julia and Max Vishnev
This food guide, written by a native New Yorker, will help you find the best restaurants in New York's bustling Chinatown — from dim sum to dinner.
I'm Julia, and as a half-Chinese native New Yorker who grew up going to Chinatown every weekend with my family, I've had a lot of experience with the different places that have come and gone.  I've also traveled to Hong Kong, where the food is generally top notch, so I know a thing or two about authentic Chinese food.
And probably like many of you reading this post, I don't speak any of the Chinese languages.  Thankfully, that doesn't stop me from getting great food in Chinatown.
New York actually has several "Chinatowns" (in Manhattan, Brooklyn, and Queens — more on that at the bottom of this article), but the one most visitors come to see is the original Chinatown in Downtown Manhattan.
While some people come for knock-off purses and watches on Canal Street, the real reason you should come to Chinatown is for the food.  It can be a bit overwhelming for a first-timer, what with all the Chinese signage, crowded streets that are off Manhattan's numbered grid, exotic fruits and vegetables being sold from stalls that spill out onto the sidewalks, and restaurants lining every street.
The staggering number of food options in Manhattan's Chinatown is enough to make your head spin.
In this article I've provided a short list of places to go, whether you're looking for dim sum, a heartier meal for lunch or dinner, ice cream, or just a simple snack.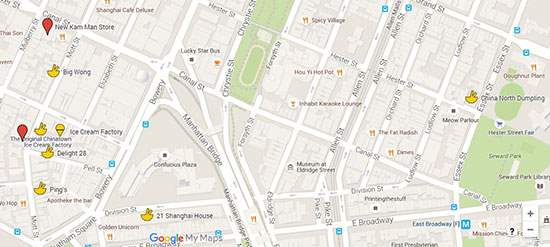 Let's start with Dim Sum:
What is Dim Sum?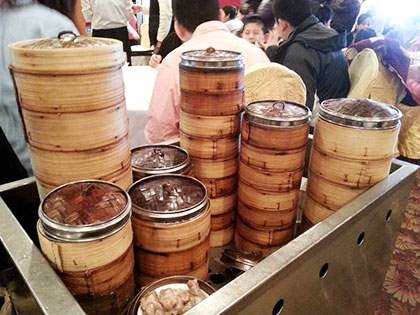 For those who aren't familiar, dim sum refers to small dishes (the Chinese version of tapas) that are usually pushed around the restaurant in carts.  It's best to go in a group of at least three or four so you can try a lot of different dishes.  Plus, the bigger your group, the less likely you'll have to share a circular table with strangers.
When a cart lady comes by (they are invariably women), ask her what she has and she'll open up each little steaming bamboo or metal box to show you.  Point at the ones you want to try.  Each plate is so cheap, it's worth it to try everything at least once (most meals average $15 per person all in!).
Some ladies can be pushy and try to unload more than you wish for.  But a stern "no thanks" and a shake of the head or wave of the hand while turning away from them will usually suffice (Chinese culture isn't known for politeness, so you won't be perceived as rude).
You'll have a piece of paper at your table that the ladies stamp to keep track of all the dishes you've ordered, and you just call a waiter to tally it up for you at the end.
Dim sum is lunch only (and breakfast/lunch on weekends), and the best stuff usually runs out by about 1 or 2pm, so arrive early.  Most dim sum places also serve dinner in the traditional family style, with shared entrees.
Word of advice: If you want to try dim sum on Saturday or Sunday, you better get to these places early (by 10am) to avoid waiting for a long time to get a table.  Weekends is the time when a lot of Chinese families get together for dim sum.  You'll often see 2 or 3 generations at one table.
Best Restaurants in Chinatown for Dim Sum:
Ping's
22 Mott Street
Although Ping's is pricier than most of the other dim sum restaurants, it never fails when it comes to the quality of the food.  It's also one of the few places that doesn't have stained carpets, torn up chairs, and messy bathrooms (common problems in Chinatown).
It's right in the heart of Chinatown, on Mott Street, so it's a very convenient place to eat while you're exploring the neighborhood.  Many of the waiters speak some basic English, so it's relatively tourist-friendly without being a tourist trap.  The shrimp dumplings ("ha gao") don't come all stuck together, and they're not stingy with the meat in their puff pastry or steamed pork buns ("cha siu so" or "cha siu bao").  You can't really go wrong with anything here.
Delight 28
28 Pell Street (near Mott Street)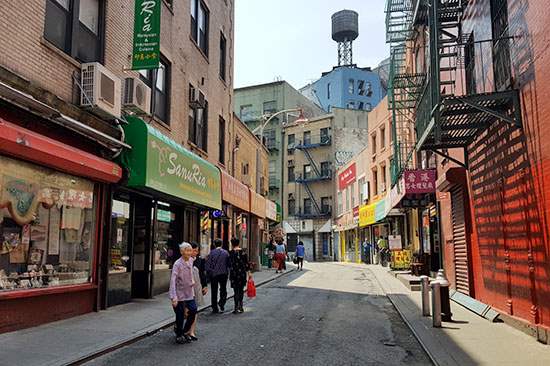 You can find Delight 28 restaurant on Pell Street, around the corner from Doyers Street (the "Bloody Angle" of gang violence of an older darker era).
Doyers Street has the famous Nom Wah Tea Parlor, the oldest dim sum house in Chinatown, and the food there is good, but to me, it's seems to cater to the young, trendy crowd and is too expensive for regular dim sum (but I guess you have to pay more for more American-level service).  It's also more touristy, since it's in most guide books.
Although not as old as Nom Wah, Delight 28 has been around for years.  It's old and shabby and cheap.  It's no frills, classic dim sum, but what it lacks in variety, it makes up for in consistency.  So many dim sum places can be great one week and terrible the next.  The food here is good, but they also have something many other dim sum places do not.  It's called "jong" (or "zongzi"), and it's done perfectly here.  It's a combination of mung beans (a type of bean, not a typo), sticky rice, egg, and pork all wrapped up in a bundle in lotus leaves.  They keep them at the front in their takeout section, but you can order it for your table and eat it plain, or dip it in soy sauce or sugar.  It's a very traditional dish that is very hard to find, and done perfectly here.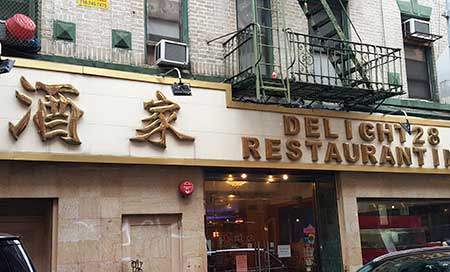 Planning your NYC visit?
Click here to get on our email list, and we'll send you 5 of our super-helpful NYC guides and suggested itineraries for free!  Plus, we'll send you an exclusive $20 off code your first tour.
Best Restaurants For Lunch or Dinner (not Dim Sum) in Chinatown
Aside from the dim sum places, you can find all kinds of other restaurants in Chinatown.  There's Malaysian, Japanese, Vietnamese – you name it.  But in the interest of narrowing things down, I'm going to just highlight two Chinese restaurants.  One specializes in southern Chinese cuisine, while the other is northern.
Big Wong
67 Mott Street
I've been going to this restaurant since before I was born (seriously, my mom has gone since she was little and took me here when I was still in her belly).  You can come for a hearty Cantonese breakfast, lunch, or dinner.  They serve single-person meals, like meat over rice or soup noodle dishes, but if you come with friends you can order dishes to share, and dine family-style.  I find their "jook" (rice porridge/congee) to be better than any of the "congee" restaurants I've tried in Chinatown.  It's the most similar to the congee I remember in Hong Kong.  It's usually eaten for breakfast or lunch.
The beef, squid, and pork congee with peanuts is a classic.  Their Amoy "chow mai fun" (a very thin rice noodle served with pickled vegetables, shrimp, and pork) is delicious and not greasy.  Their roast pork ("cha siu") is also great (it comes lukewarm, not hot).  The restaurant itself is just like many I remember in Hong Kong.  Nothing fancy.  Just great food.
21 Shanghai House
21 Division Street (between Bowery and Manhattan Bridge)
This one is actually a fairly new restaurant compared to the others I've mentioned so far, but I really hope it's here to stay.  It's a bit away from the hustle and bustle of Mott and Canal streets, which is also nice.
Quick aside:
If you've contemplated waiting an hour in line for Joe's Shanghai, forget the hype and go to Shanghai House.  The soup dumplings at Joe's are great, but everything else is mediocre or worse.
The soup dumplings at Shanghai house are made by hand (you can often see a lady working in the back through the glass, and the boss often jumps in to help) and they are absolutely perfect.  There's always a good amount of broth inside each dumpling, the pork is nice and soft with no gristle, and the dumpling skin is nice and thin.
If you've never tried one, make sure you put it in your spoon and poke some holes with your chopstick to let some of the steaming hot broth out to cool before trying to take a bite, or you could burn your mouth.  Aside from the pork soup dumplings (which my family always orders several rounds of), you really can't go wrong with anything on the menu.  Plus, most of the waiters speak some English, so you're good to go.
Snacks in Chinatown
If you're not ready for a full meal, Chinatown has plenty to offer for a quick bite that you can eat on the go or in a park outside.  At Columbus Park you can sit, eat your snack, and listen to the old people sing traditional Chinese songs or play Chinese instruments.  It's also the former location of the Five Points, home to the worst slums in 19th century America (as portrayed in Scorcese's Gangs of New York).
Chinatown Ice Cream Factory
65 Bayard Street (off Mott Street)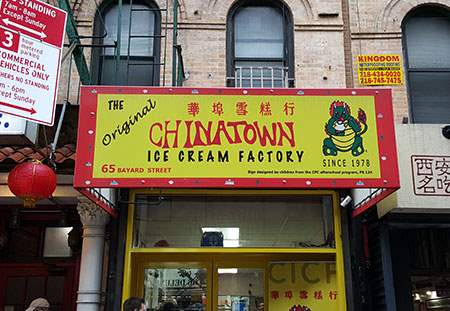 The Chinatown Ice Cream Factory is famous, and rightly so.  This was one of the first places in NYC to create unique flavors outside the usual vanilla, chocolate, and strawberry that you would find in every ice cream parlor.  Now we've got ice cream shops like Ample Hills, Van Leeuwen, and Blue Marble that serve creative flavors, but the Chinatown Ice Cream Factory is all about Asian flavors.  You can try red bean, lychee, zen butter (a combo of peanut butter and toasted sesame), don tot (Chinese egg custard), and more.  Perfect for strolling around on a hot day.
Fong Inn Too
46 Mott Street
This hole in the wall specializes in soy and noodle products.  You can get a bottle of fresh sweetened or unsweetened soy milk, as well as fresh noodles to take home and cook.  But for a delicious and traditional snack, try the "tofu fa", which sits in a giant metal pot in the window.  It's $1.50 for a small container of this soft, silky tofu with ginger simple syrup, so it's worth trying if you want a taste of a real traditional Chinese dessert.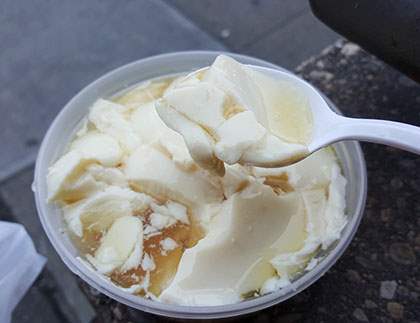 It's a great cool weather snack, because it's served warm.  The consistency is a bit like panna cotta or eggy flan, but floating in a syrupy soup.  They give you the syrup separately, so you can add as much or as little sweetness as you want.  The server manages to always leave EXACTLY enough room in the container for adding all the syrup without it overflowing.
China North Dumpling
27A Essex Street (between Hester Street and Grand Street)
There are plenty of dollar dumpling shops in Chinatown, some better than others.  People have different things they look for in a fried dumpling, but when they're so cheap, it's hard to really be disappointed by any of them.
At China North Dumpling on Essex Street, you can get 12 yummy pork and chive dumplings for $3.  This place is at the edge of Chinatown and the Lower East Side, so if you're exploring both neighborhoods, it's a good spot for a quick refuel.  The service is quick and dialogue is curt (but it's not because they hate you, it's just how they talk, I promise).
Golden Fung Wong Bakery
41 Mott Street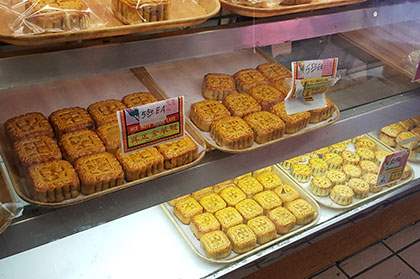 There are tons of bakeries in Chinatown, and modern bakeries like Fay Da are great for their light airy sponge cakes or bubble tea, but if you want to try some real traditional Chinese goodies at a bakery that's been around for decades, go to Golden Fung Wong on Mott Street.  They sell all varieties of moon cakes year round, as well as sweet or savory $1 buns with different fillings.  They have traditional Chinese cookies in animal shapes, and one of my favorites, "don tot" (egg custard in a flaky pastry crust).  You can really load up on the sweet buns and just take them with you to snack on throughout the day.
New Kam Man Supermarket
200 Canal Street (between Mulberry Street and Mott Street)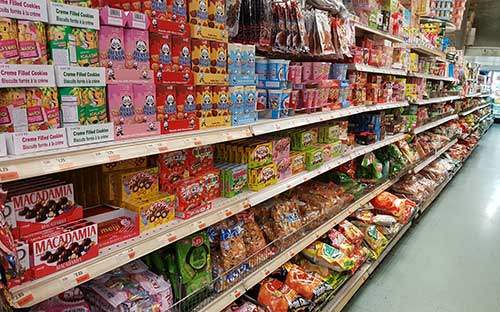 If you're looking for goodies to take home, check out Kam Man Supermarket.  They have the best assortments of Chinese and Japanese sweets in their candy aisle, like Pocky sticks, White Rabbit chewy candies, chocolate Koala's March cookies, and more traditional sweets like peanut cakes and black sesame crunchy candies.  They also have a lot of classic British goods, like Maltesers and Walkers shortbread cookies.  In addition to the sweets, they have a hot food area where you can get something to take out or eat there.  Downstairs is the kitchen supplies department, where you can get some great looking bowls, chopsticks, tea pots, etc., at really cheap prices.
Just be adventurous and explore when you're in Chinatown, because that's how you'll really get the full experience.  Everything is cheap enough that even if you don't like something, it's not a big waste.  If you don't have a Chinatown where you live, visiting Chinatown in NYC is the perfect opportunity to get out of your comfort zone and try something new.  And it's perfectly safe to do so here.
Now, for a little background info:
New York City is home to the largest Chinese population (among cities) outside of Asia.  There are nearly 600,000 ethnically Chinese individuals living in the five boroughs of New York City, which is triple the size of the Chinese population in San Francisco.  The number of Chinese New Yorkers exceeds the entire population of American cities like Atlanta, Sacramento, and Miami.
Even if you look at North America, NY still has the largest number of Chinese residents, though Toronto is close behind with over half a million.
So where do 600,000 Chinese New Yorkers live?
The steady influx of immigrants from mainland China in recent years has created very large Chinese communities in Queens and Brooklyn.  In fact, Queens alone is home to nearly a quarter million Chinese residents.  Brooklyn is right behind with over 200,000.  The original Chinatown in Downtown Manhattan is home to over 100,000, which is pretty impressive given that the geographic area of the neighborhood is only about one square mile!
Let's look at some historical background:
After the Chinese Exclusion Act of 1882, most of the Chinese men who had sailed to America looking for fortune in the California Gold Rush of 1849 only to become a source of cheap labor for the construction of the Trans-Continental Railroad mainly settled in two coastal cities on opposite sides of the continent – New York and San Francisco.
The tiny isolated Chinese community in NYC was formed near the bottom of Manhattan Island and centered around Mott Street.  Needless to say, this small community kept largely to themselves (hard to blend in at a time when America had a national law barring all new Chinese immigrants).  There were huge language and cultural barriers with non-Chinese New Yorkers and racial discrimination was rampant and explicit.
Although the Chinese Exclusion Act was finally abolished in the 1940s (after 6 decades!), the floodgates didn't really open until the Immigration and Naturalization Act of 1965, which removed quotas based on national original, allowed families to re-unite, and encouraged the arrival of skilled workers.
That's when Manhattan's Chinatown population really began to swell.  And as the population grew, so did the number of businesses supporting the community.  Laundromats and restaurants were traditionally the two most common business establishments.
Today, even though many new arrivals are finding more affordable housing in Queens or Brooklyn, Manhattan's Chinatown remains a crowded, vibrant, real ethnic community.  Tourists are a small minority, not a majority like in a lot of other cities with a "Chinatown".
So walk down Mott Street and step into another world – a world of busy restaurants, fish stores, fruit peddlers, sidewalk smokers, and everyone in between.
And if you need help figuring out how to get to Chinatown by subway, check out our detailed "NYC Subway Guide For Tourists" article.  Or get in touch to book a private customized walking tour of New York City.
Planning your NYC visit?
Click here to get on our email list, and we'll send you 5 of our super-helpful NYC guides and suggested itineraries for free!  Plus, we'll send you an exclusive $20 off code your first tour.