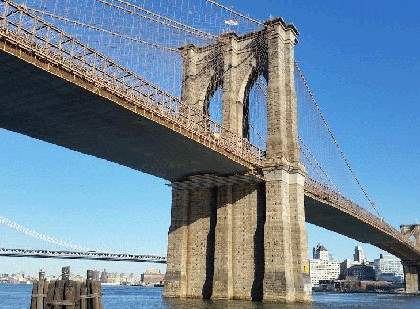 by Max Vishnev, founder of CityRover Walks NY
The Brooklyn Bridge is one of New York's most iconic structures.
It's been featured in countless movies, songs, photographs, and paintings.  Ken Burns, the famous documentary film-maker, did a film about the Brooklyn Bridge, which was nominated for an Oscar in 1982.
But what makes it so special?  After all, it's nowhere near the longest or tallest bridges in the world today (in fact, it's not even in the Top 80 in the world).
To appreciate its significance, let's remember this:
The Brooklyn Bridge was built in the horse and buggy age.
It was completed in 1883 — long before cars on interstate highways, and certainly way before computers and advanced simulation software.  Forget simulators, it was built long before calculators!

Now, let's look at some key Brooklyn Bridge facts:
1.  Before the Brooklyn Bridge, the only way you could get from Brooklyn (America's 3rd largest city by the mid 19th century) to New York (just Manhattan at the time, America's largest city) was by steam ferry.  Ferry service was fine most of the time. But during really cold winters the East River sometimes froze, and thousands of daily commuters were stranded.
2.  There was a definite need for a bridge over the East River, but such a span was considered "unbuildable" by experts and amateurs alike. It would have to be a mile long and high enough for the tall masts of ships to pass under it.  A bridge that long had never been attempted before, and even if built, was sure to collapse, accordingly to the prevailing wisdom of the 1850s and 60s.
3.  It didn't help that suspension bridges didn't enjoy a very good safety record at the time.  According to David McCollough's The Great Bridge (a terrific read for history buffs), suspension bridges in the first half of the 19th century had a tendency to collapse!  It happened in England, France, and the United States.
4.  So who actually designed the Brooklyn Bridge?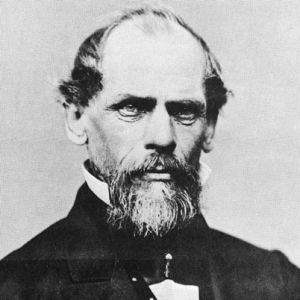 Enter a brilliant German engineer named John A. Roebling. He presented his innovative and iconic design and convinced politicians on both sides of the river that an East River suspension bridge is very buildable and that he should be the man to build it.  He explained clearly why a well-designed suspended span of 1,600 feet could be as safe and one of only 100 feet. He then took the decision makers on a railroad tour of his existing suspension bridges, including the railroad span over the Niagara Gorge and the Cincinnati Bridge now named in his honor, which was then the world's longest.
5.  The Brooklyn Bridge project was finally approved by the separate cities of New York and Brooklyn in 1867, although it took another 2 years for Congress to approve the project.  This was going to be the first bridge to span the two great cities. It would be the longest span in the world by far if built; the crowning achievement of a storied career of America's greatest bridge builder.
6.  Who was the first person to die in the building of the Brooklyn Bridge?
John A. Roebling would not live to see his master work completed. Tragically, he wouldn't even live to see construction begin. Such an ambitious project was bound to claim some victims. Sadly, its first victim was its designer. And in a brutal twist of irony, the thing that led to his untimely death was the very thing he was trying to replace – a commuter ferry!
John A. Roebling died at the age of 63, a couple of weeks after a freak ferry accident in which his right foot was crushed. He developed an infection after a procedure to amputate his toes.  He died from tetanus in extreme agony days later.
Panic ensued.
Who would build the "unbuildable" bridge now that its designer and chief engineer was dead?
And that's when the real drama begins…
To learn more about the Brooklyn Bridge, the Roebling saga, and the two cities it connected, please get in touch about our highly-rated private Brooklyn Bridge Tour.
Or get in touch with us about a private customized tour of Brooklyn!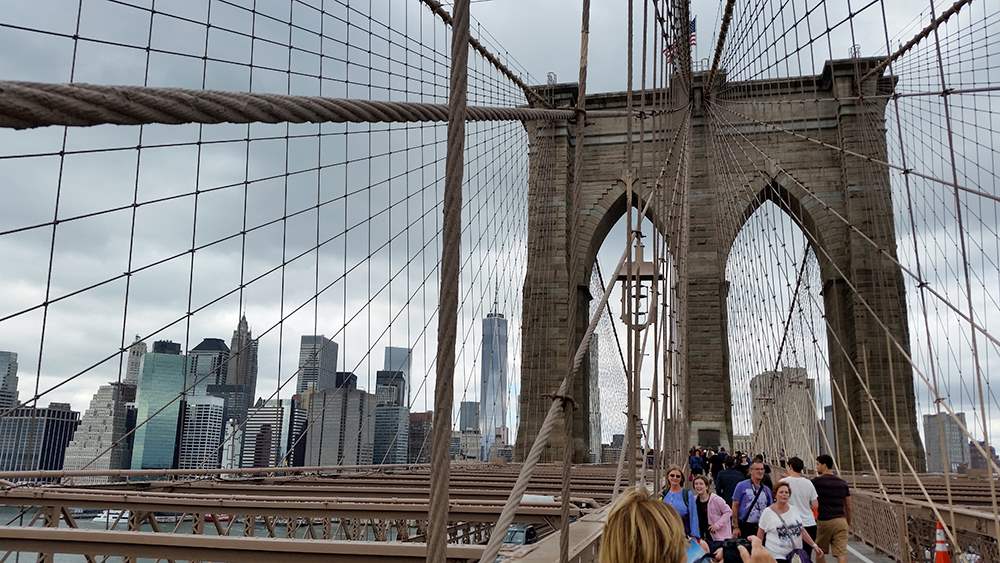 More Brooklyn Bridge History, Facts & Figures:
How long is the Brooklyn Bridge?
The total length of the Brooklyn Bridge is 5,989 feet (about 1.1 miles or 1.8 kilometers).  The central span (the distance between the two towers) is 1,596 feet.
When was the Brooklyn Bridge built?
Construction of the Brooklyn Bridge began in 1869 and ended in 1883.  Opening day, dubbed "People's Day" was May 24, 1883.  It was declared an official holiday in Brooklyn.
How many people walked over the Brooklyn Bridge on its first full day, May 25, 1883?
David McCollough, the Pulitzer-prize winning author and historian, writes in the Great Bridge: "a total of 150,300 people crossed on foot".
Did the Brooklyn Bridge ever have a toll?
Yes, the Brooklyn Bridge originally had a toll of 1 cent for pedestrians to walk over its promenade.  The pedestrian toll remained in place until 1891.
How much did the Brooklyn Bridge cost to build?
The original budget was $5 million.  The final cost was $15 million.  But you have to remember, nothing on that scale had ever been attempted before, so there were lots of unforeseen problems.
How many people died building the Brooklyn Bridge?
Estimates vary, but it is believed that between 20 to 30 people died building the Brooklyn Bridge.  Some died in construction accidents.  Others died from a mysterious condition known as the "Bends" or "Caisson Disease".