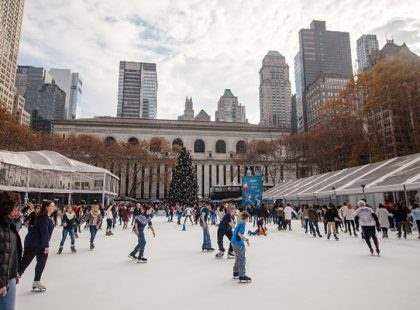 by: Michele DeBella
In New York City, there are more than 1,700 parks to choose from.  This long list includes 843-acre gems like Central Park to tiny parcels of land surrounded by iron fences with a bush or two in the middle.  Bryant Park today is one of the most popular parks in NYC.
The location couldn't be better, and there are enough activities to keep a person busy for all 12 months of the year. The park has some creepy origins (it was a potter's field in the first half of the 19th century), as well as a rough track record from the 1970s through the early 90s.  Now it's a clean and safe magnet for midtown workers at lunchtime, fitness buffs, Ping Pong and Petanque (similar to bocce) enthusiasts, and tired tourists looking for a break from the skyscrapers, bus tour ticket sellers, and crowded sidewalks. Check out what's happening during every season at this pretty midtown park that some refer to as Manhattan's Town Square.
Spring
Like urban dwellers everywhere, New Yorkers rush outside at the first hint of spring. That first hint is often a false alarm, so one nice day in March can be followed quickly by a foot-and-a-half of snow. At Bryant Park, at least, spring arrives a little early. Certain elements work together to make this possible. Towering skyscrapers cocoon the 9.6-acre park, protecting it somewhat from frigid winter winds, and the New York Public Library keeps their book vault under the park's lawn. The vault is large enough to store more than 3 million books and it keeps the ground in a "warm zone." That means the flowers and foliage appear a little early, including the more than 100,000 daffodils that bloom each year.
Spring is also when many seasonal activities begin, including Ping Pong, Bingo, and language classes. There's also a selection of table games and an Art Cart, where visitors can sharpen their artistic skills or just doodle away an afternoon. Magazines and books for kids and adults are also available to borrow from the Reading Room.
Summer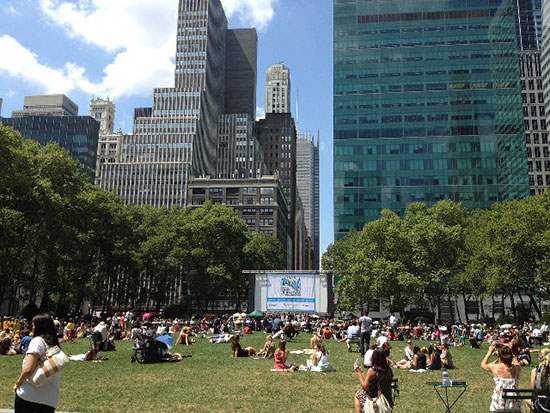 Every summer I set a challenge to see if I can sample all of Bryant Park's summertime activities and each year, I fail. The park is relatively tiny but jam-packed with action. The Summer Film Series is a beloved favorite. There's nothing like watching a well-known movie under the stars along with hundreds of others who can recite the dialogue word-for-word with you. For theater lovers, Broadway in Bryant Park is one of summer's greatest gifts. Each week, actors from four popular Broadway musicals perform snippets from the plays they're starring in. Look for a schedule of Shakespeare plays, too. And finally, whatever activities didn't open in the spring are in full swing, including free yoga classes all summer, as well as juggling and even fly-fishing lessons on concrete (seriously!)
Fall
That fall feeling: brilliant colors transform the landscape and falling leaves make for crunchy, leaf-covered pathways. The park is less crowded and many of the activities that opened in the spring remain until the end of October. It's the perfect time of year for a Birding Tour or a spin on Le Carrousel. You can spread out on the Lawn—minus the massive summer crowds— before they close for the season. But the activity never really stops here. Visitors can count on juggling classes all year-round, fine dining at the upscale Bryant Park Grill, or a less formal bite to eat at the kiosks scattered around the park, including Le Pain Quotidien, Wafels & Dinges, and Bread & Co.
Winter
Contrary to expectations, Bryant Park springs to life in the winter. That's thanks to the literal winter wonderland called Winter Village. Winter Village is the go-to family destination. Go ice skating, shop at an outdoor holiday market (great for interesting souvenirs from a wide variety of local artisans), and see an assortment of figure skating performances and events. There's also a Christmas tree lighting to kick off the holiday season, and an appearance by Santa Clause. And though the outdoor Reading Room is shuttered for the season, they host winter poetry readings at Kinokuniya Bookstore just across Sixth Avenue.
Keep an eye on Bryant Park's schedule of events for the most up-to-date information.