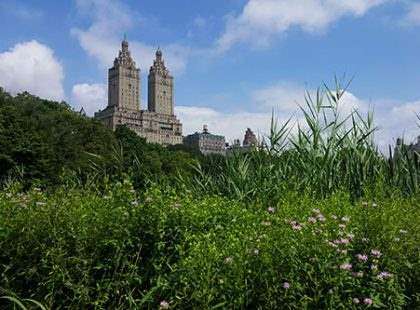 by Max Vishnev, founder of CityRover Walks NY
This free Central Park guide is divided into 2 sections:
1.  Central Park background info
2.  Central Park Frequently Asked Questions
First things first:
Central Park is not just a famous park to check off your "must see" list while visiting New York City. 
It's not just a backdrop for TV shows and movies.  And it is certainly not just a rectangle in the middle of Manhattan with a lot of trees, grass, and water.  It's so much more than that.
Central Park is an 843-acre magical place to get lost, to unwind and escape New York City.

As you enter through one of its many "gates" you are transported to another world: a world without skyscrapers, honking cabs, or street signs.  Your stress level immediately drops, even if you didn't realize you were stressed before.
The sound of birds singing and leaves rustling in the wind, the sight of ducks and turtles in the ponds, kids running around in the grass or climbing on the rocks, and people of all ages and backgrounds strolling along the winding paths or sitting on benches is sure to lower your blood pressure, slow your pulse, and help you breathe more freely.
What's even more amazing is that Central Park is entirely man-made!
It was one of the largest public works projects of 19th century America and is considered the first landscaped city park in the country.  In fact, the only element of the park today that was already there before laborers got to work with picks and shovels in the late 1850s is all that rock.  It is the native bedrock of Manhattan.
It even has its own name – Manhattan schist.
Read this carefully:
All those rocky outcroppings in Central Park that kids and tourists love to climb date back to the last Ice Age!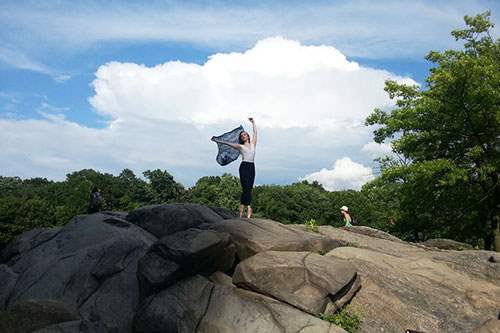 Besides the glacial outcroppings of Manhattan schist, Central Park has 3 main elements: meadows, woodlands, and lakes.
And there lots of winding paths to take you from one landscaped scene to the next.  The winding paths may not seem like a big deal, but they are a critical part of the park experience.  The shape of Central Park is a long boring rectangle.  And it is completely surrounded by Manhattan's rigid grid system of streets and avenues.  The park's winding paths were designed to give you the experience of getting lost, of escaping the city and its predictable, some might even say boring grid.  That also helps explain why there are no street signs in the park referencing your location.  You were supposed to forget about the city for a while, and that meant leaving the grid behind.
And next time you're in Central Park, following its twisting paths, take the time to stop and admire your surroundings.  Think of each scene around you as a living landscape painting.  After all, Central Park is considered America's greatest 19th century work of art, created as part of a design competition in 1858.
The winners of the Central Park design competition, Frederick Law Olmsted and Calvert Vaux, created a whole new occupation — landscape architecture.
Are you visiting New York City and want to explore and learn about Central Park with an expert guide?  Contact us about booking a private Central Park walking tour and walk away knowing more about the park than many locals.
Or get in touch about a private NYC parks tour (perhaps including a visit to Prospect Park — Brooklyn's Olmsted & Vaux masterpiece).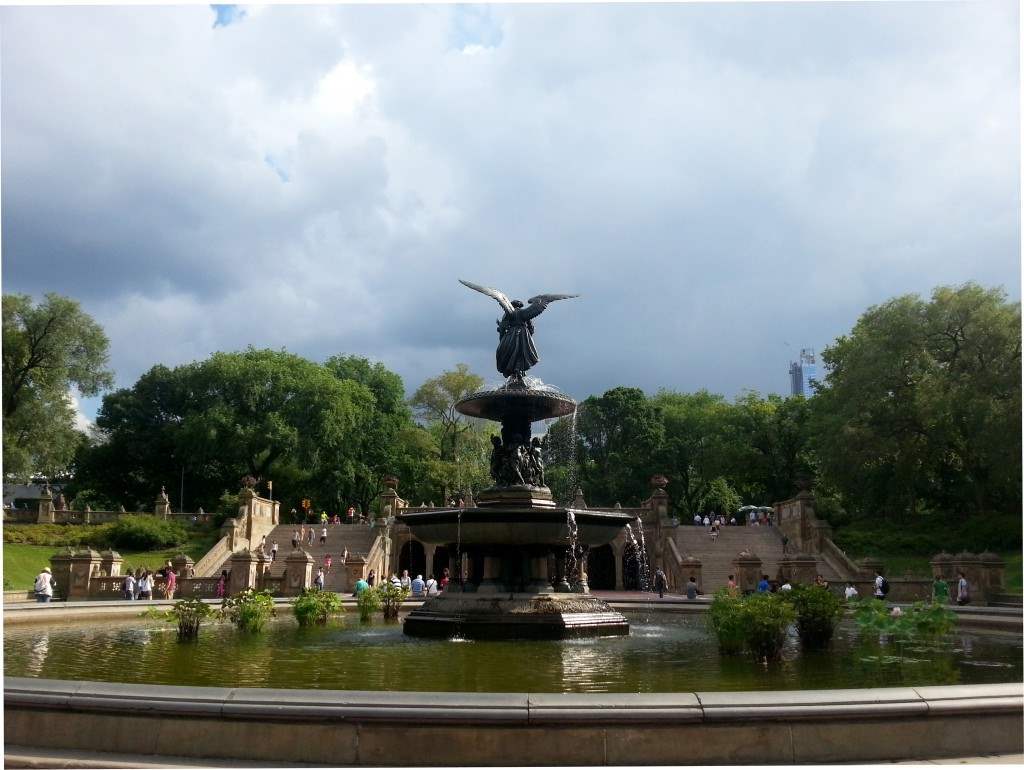 Now to switch gears a bit….
Central Park Basic Facts and Frequently Asked Questions:
How big is Central Park?
Central Park comprises 843 acres in the middle of Manhattan.  It is shaped like a long rectangle – 2.5 miles long (4 kilometers) and about 0.5 miles wide (0.8 kilometers).
Here is a map of the lower portion of Central Park: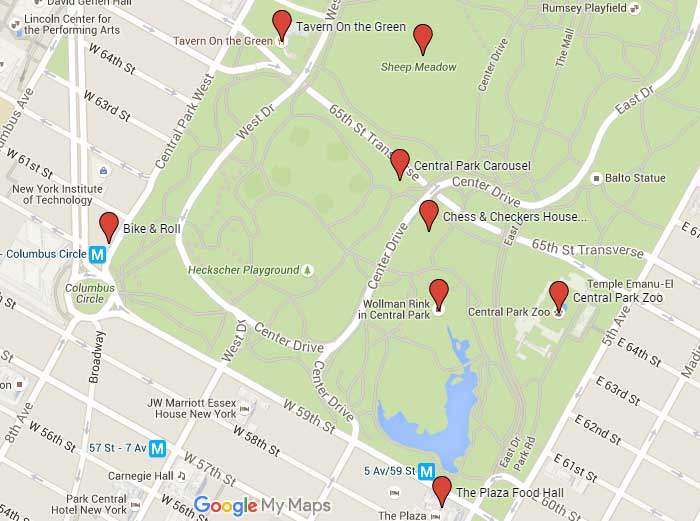 Where is Central Park located?
Central Park is practically smack in the middle of the island of Manhattan.  It is bound by Central Park South (a.k.a. 59th street) to the south, 110th street to the north, Fifth Avenue to the east, and Central Park West (a.k.a. 8th Avenue) to the west.  It has multiple entrances (or "gates").  The "main entrance", as the designed envisioned it, is Grand Army Plaza, on the corner of Fifth Avenue and Central Park South.  But you can enter via 18 different "gates" spread around the park's perimeter.  If you look carefully when you enter, you'll see that the symbolic gates have names carved into the low stone wall around the park, like Scholars' Gate, Merchants' Gate, Mechanics' Gate, etc.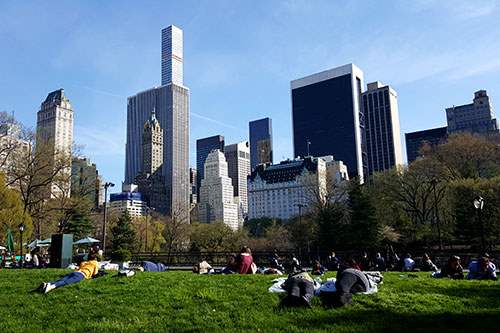 What time does Central Park open and close?
Central Park is officially closed from 1am to 6am.  It's only closed in the legal sense, since there are no actual gates to close.
Is Central Park free?
Yes, Central Park, like all New York City public parks, is free and open to all.  But as you can imagine, maintaining 843 acres of meadows, lakes, woodlands, benches, statues, and lampposts requires a lot of money.
Thankfully, the Central Park Conservancy – a non-profit established in 1980 after years of park decline and neglect – manages the park for the city and raises 75% of its operating budget, which these days is a whopping $67 million!  Anyone can contribute to the park's maintenance – whether it's a $5 donation, a $10,000 bench adoption, or a check for $100 million (thank you, John Paulson!)
Is Central Park safe?
Yes, Central Park is very safe.  That's one of the main reasons why it's rated #1 on TripAdvisor among over a thousand things to do in New York City and why 42 million people visit it each year.
But it wasn't always safe.  In fact, for a long time (particularly in the 70s and 80s) Central Park was considered unsafe, and the risk of getting mugged (or worse) was a constant threat hanging over visitors.  Today, crime is very low.  In fact, according to the NYPD, serious crime in Central Park, as of 2015, is down 77% compared to 1990.
When the park is clean and well-maintained, it attracts more visitors.  And when there are 42 million annual visitors (or about 110,000 visitors per day, on average), that's a lot of smartphones with camera and video capabilities.  It's a lot harder to mug someone with all these witnesses (some armed with selfie sticks for good measure!) milling about.
Does Central Park have street signs?
Unlike the areas surrounding it, Central Park does not conform to Manhattan's grid system.  In fact, there are virtually no references to the grid inside the park.  However, you'll find numerous maps of Central Park as you stroll through it, which will help you navigate it.  Just don't go in expecting to see what avenue and street you're on – the whole point is to get lost a little.
Where is the ice skating rink?
The famous Central Park ice-skating rink operates seasonally between late October and early April.  In the summer, the space is used as a small children's amusement park.  The rink, called Wollman Rink, is located just northwest of the Pond and south of the Dairy.  The best way to get there is to walk into the park at 5th Avenue and 60th street, cross the carriage path, and take a winding pedestrian path down towards the Pond.  Walk north past the Pond, curve left, and you'll see the rink to your left.
The admission fee is $11.25, plus $8 to rent skates.
Where is the Central Park carousel?
The carousel in Central Park is located south of Sheep Meadow, just below 66th street.  It's just west of the center of the park, so walking in from Central Park West is the fastest route.
The Central Park carousel, one of the largest and oldest in the United States, was built in 1908 for the enjoyment of children in Coney Island, Brooklyn, the famous "People's Playground" by the ocean.  It was abandoned a few decades later, when the Coney Island amusement parks closed, and left to rust in an old trolley yard in Brooklyn.  The carousel, with its beautiful hand-carved horses and chariots, was restored in the early 1950s and installed in Central Park to replace a previous carousel that had burned down.  The ride today costs $3 and is open from 10am to 6pm April through October.
Where is the Central Park zoo?
The Central Park Zoo is inside the park, just west of Fifth Avenue, between 63rd and 65th street.  There is the main zoo and a separate, smaller Children's Zoo (included in the admission price), where children can feed the goats and sheep.
The Central Park Zoo is open daily from 10am to 5pm (5:30 on weekends and holidays) from late March through early November.   The price for children under 12 is $7 at the gate ($13 if you want the "total experience" which includes the 4D theater), but you can save a buck by buying your tickets online.  Kids ages 2 and under get in free.  Adults are $12 at the gate.
Kids can enjoy the sea lion and penguin feedings, as well as the 4D theater (additional fees apply), among many other animal exhibits.
Where is Strawberry Fields?
Strawberry Fields is a famous landscaped area inside the park, also known as the "Garden of Peace".   It is named in honor of John Lennon, the famous Beatle who was murdered walking into the Dakota Apartments just across from the park at West 72nd street on December 8, 1980.  The most recognizable feature in Strawberry Fields is the mosaic "Imagine" Memorial, unveiled in October 9, 1985 (what would have been Lennon's 45th birthday).
The Imagine Memorial is one of the most visited attractions in Central Park, if not New York City.  It is easily accessible from Central Park West and West 72nd street.  There is a subway station right on the corner, so the best way to get to Strawberry Fields directly is to take the B or C subway lines to the 72nd street station.
When you emerge from the subway station, look for the ornate yellowish stone building with the gabled roof on the corner of Central Park West and 72nd street.  This impressive structure, completed in 1884, is the famous Dakota Apartments, which is considered the first luxury high-rise apartment building in New York City, and tragically, also the place where John Lennon was killed walking into the building on the night of December 8, 1980.
When is Shakespeare in the Park?
The free summer festival of Shakespeare in the Park has been a beloved Central Park tradition for more than half a century.  Free performances are typically offered from late May to mid August and usually feature two different productions.  Many famous stars have performed at the Delacorte Theater (where the performances are held) in Central Park over the years, including Al Pacino, Meryl Streep, Denzel Washington, and Anne Hathaway.
There are several ways to get tickets to see Shakespeare in the Park:
Become a sponsor for a tax-deductible $200 donation.
Check the performance calendar, bring a book and a lawn chair, and get to the park as early as possible (remember, the park officially opens at 6am). Free tickets are given out starting at noon, and if you don't get in line in the morning, you won't get any tickets, especially if there is a big star performing.  Each person in line is entitled to 2 free tickets, until they run out.
Try your luck with the in-person lottery at the Public Theater downtown at 425 Lafayette Street, just south of Astor Place. Sign-ups start in the lobby at 11:30 and the lottery is drawn at noon.
Try your luck with the mobile lottery by downloading the Today Tix app and scrolling down to Shakespeare in the Park.
Here is a map of Central Park (middle section):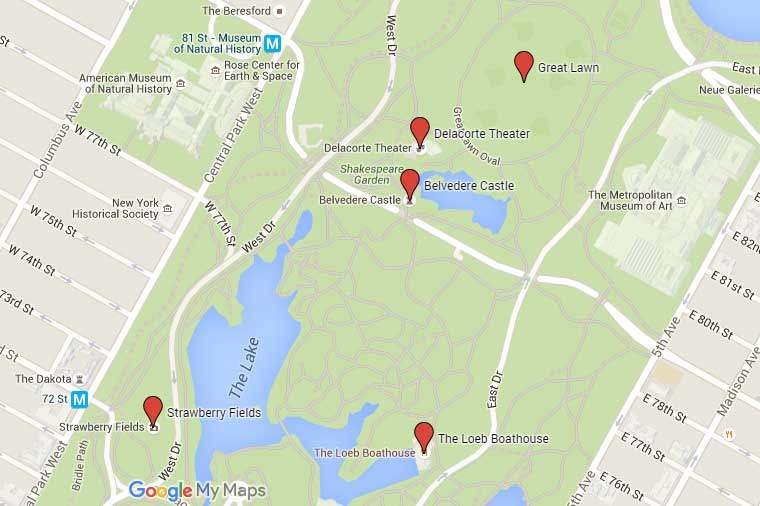 Other Things to do in Central Park:
1.  Play chess or checkers at the Chess & Checkers House (borrow a chess or checkers set inside).
2.  Bring your beach shorts and sunblock and join a game of volleyball just west of Sheep Meadow.
3.  Enjoy a nice picnic on Sheep Meadow or the Great Lawn (stop by Zabar's on the Upper West Side for fresh bread, cheese, olives, bagels, lox, and other delectable and fresh food items).
4.  Go bird-watching in the Ramble or North Woods (Central Park is one of the top bird-watching spots in the United States during the fall and spring migration seasons. Didn't bring your binoculars?  No problem!  Visit the Nature Observatory at Belvedere Castle (enter at West 79th street) and borrow a Discovery Kit, which includes binoculars, a map, guidebook, and even sketching materials (because photographs are so overrated).
5.  Find a bench in the shade and read or book or enjoy some people-watching (there are 9,000 benches to choose from, and if you fall in love with your bench (and there is no plaque on it), you can adopt it for $10,000.
6.  Go for a run if you enjoy jogging. The main loop is approximately 6 miles.  In fact, tens of thousands of runners finish the New York City Marathon in Central Park each November.
7.  If you're more into cycling, rent bikes from Bike & Roll, which has a bike rental station at Columbus Circle next to the southwest corner of Central Park, as well as by Tavern on the Green at Central Park West and 67th A 2-hr bike rental is $28, while a 4-hr rental is $39.
Where to get coffee near Central Park?
There are a couple of casual cafes inside the park operated by the Belgian chain, Le Pain Quotidien.  One is located just north of Sheep Meadow, near Central Park West and 67th street.  The other is just east of the Conservatory Water (a.k.a. the "Sailboat Pond") near Fifth Avenue and 72nd street.  You can get a decent cup of coffee at either one.
However, if you're looking for a proper espresso coffee drink, you'll need to leave the park.  Luckily, there are several great espresso bars within walking distance just south, east, and west of the park.  Please refer to our best coffee in NYC neighborhood guide, and scroll to the bottom until you find the sections for the best coffee shops in Midtown (south of Central Park), Upper West Side, and Upper East Side.
What restaurants can be found in Central Park?
Besides the two casual Le Pain Quotidien locations mentioned above, Central Park is home to two famous restaurants for a fancier meal: The Loeb Boathouse Restaurant and Tavern on the Green.
The Boathouse Restaurant is a popular destination for lunch, dinner, and weekend brunch.  The inviting restaurant interior and bar area is coupled with outdoor seating facing the Lake in Central Park.  You'll enjoy a great meal with unbeatable views, as Meg Ryan did in When Harry Met Sally.
Prices reflect the location and reservations are recommended.
By the way, if you want to burn off some calories after your meal at the Boathouse, you can rent a row boat for $15/hr and enjoy the scenery while getting some exercise on the Lake in Central Park (22 acres).  Just please don't row backwards (you'll be surprised how many people have no clue how to row correctly, even though it's not rocket science).  On a nice summer day, you might even get into a boat traffic jam under the Bow Bridge.
Tavern on the Green is the other great dining option in Central Park.  It is nestled just inside the park east of Central Park West at 66th street (facing Sheep Meadow).  The restaurant is housed in the historic Victorian Gothic Sheepfold, built in 1870 to house a couple of hundred sheep brought to Sheep Meadow for grazing (free lawn-mowing and fertilizing services and eco-friendly too!).
The restaurant recently underwent a complete restoration and sports a beautiful dining and bar area, as well as a large outdoor seating area.  Reservations are recommended.
Prices are comparable to the Boathouse and the food menu is diverse and delicious.  Just think about the cute sheep that once grazed on the nearby meadow as you ponder the Caramelized Roasted Leg of Lamb for your main course.
Plaza Food Hall
Finally, if you want something to eat or drink before or after visiting Central Park, check out the popular Plaza Food Hall on Central Park South, just off Fifth Avenue.  This modern food court is in the lower level of the famous Plaza Hotel and features numerous great local food purveyors — from crepes to pasta, from dumplings to sushi, and much more.  There is also a wine bar and a great bakery/coffee bar (to go).  And, it's important to note, clean bathrooms!