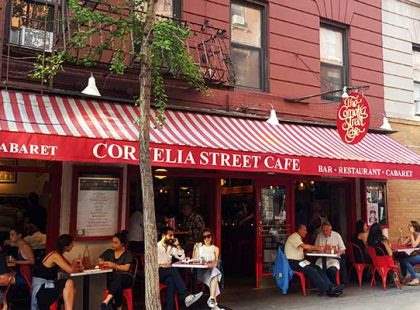 Cornelia Street is home to some of the best restaurants in NYC. 
So whether you're visiting New York for the first or fifth time, enjoy a great meal on Cornelia Street away from the crowds and off the beaten path in the heart of Greenwich Village.  But hurry, a few long-time Cornelia Street mainstays have closed in the last couple of years due to skyrocketing rents, so who knows how long the survivors will last.
This old narrow street, which runs one block from Bleecker Street to West 4th Street, was laid out in 1794 and named after the granddaughter of the land's property owner, Robert Herring, whose ancestors were early Dutch settlers.
For a small late 18th century street, the dining options are truly impressive.
Getting here:
Take the 1 subway line to Christopher Street station or the A/B/C/D/E/F/M trains to West 4th Street station (see map above).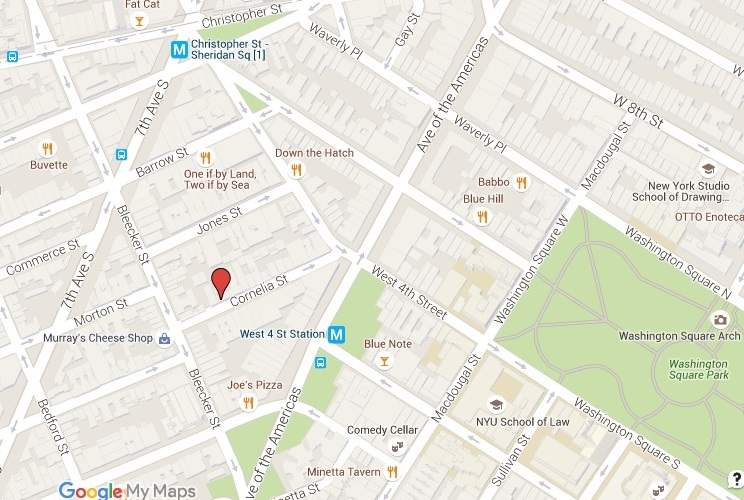 Planning your NYC visit?
Click here to get on our email list, and we'll send you 5 of our super-helpful NYC guides and suggested itineraries for free!  Plus, we'll send you an exclusive $20 off code your first tour.
Here are several highly rated, popular, and long-standing restaurants on Cornelia Street:
29 Cornelia Street; 212-989-9319.  View dinner menu here.
Breakfast, lunch and dinner daily.  Reservations are accepted for dinner only.
The oldest restaurant on the block has been feeding locals and showcasing artists since 1977.  Come in for the great food, extensive wine list, and the weekly performances, which cover the entire spectrum of art, literature and music — from poetry readings to storytelling to jazz.
28 Cornelia Street; 212-691-2223.  View menus here.
Lunch and dinner daily except Monday (dinner only).  Reservations are recommended.
Another great Italian option across the street from Pó, which offers family style dining using traditional Italian recipes.  Palma's cozy vibe and old-world charm, including a converted carriage house circa 1810 for private parties,  ensures you'll enjoy a great meal.
And if you have to wait for a table, leave your name and head to their wine and cocktail bar next door:
Aperitivo di palma: 30 Cornelia Street
18 Cornelia Street; 212-691-8211.   View lunch and dinner menus here.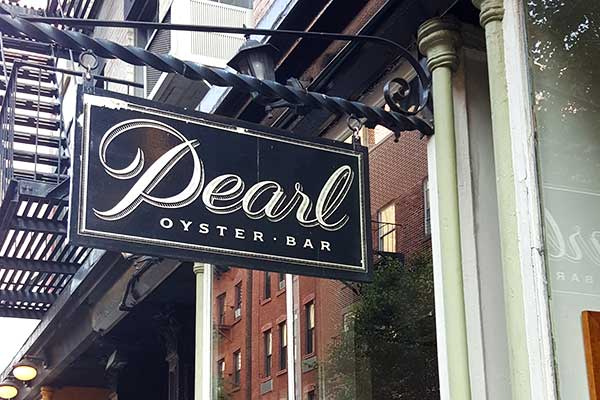 Open for lunch and dinner Monday through Saturday (dinner only on Saturday).  Closed on Sunday.  No reservations.
Not in the mood for meat or pasta?  Then come to Pearl for a great oyster house/"seafood shack" experience.  Pearl has been dazzling diners with its impressive raw bar menu since 1997.  Mouth-watering lobster rolls, fish, clams, shrimp, and of course, lots of fresh oysters.  Pair that with a nice glass of wine.
18 Cornelia Street; 212-627-3737.  View menus here.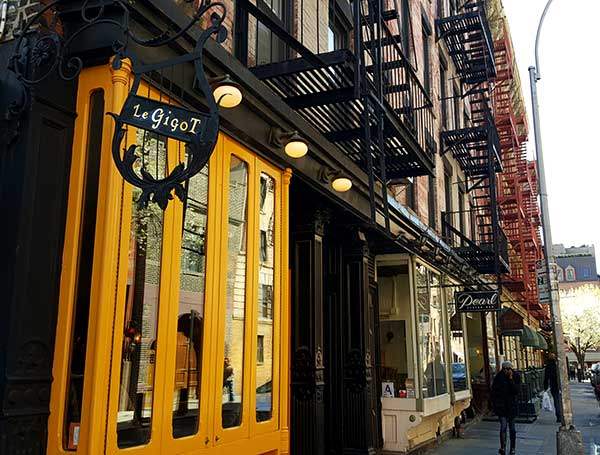 Open for lunch and dinner Tuesday through Sunday (closed Monday).  Reservations recommended.  Cash or American Express only.
Perhaps you are in the mood for duck confit or leg of lamb?  Then head to Le Gigot and enjoy its seasonal Provençal dishes and intimate decor, but leave room for dessert.  This neighborhood French joint has called Cornelia Street home since 1996.  Pair your meal with a nice bottle of wine.
7 Cornelia Street; 212-727-1050.  View menus here.
Perhaps you're in the mood for a delicious ramen dish?  Then check out Mew Men, a relative newcomer to the block that's already garnered great reviews.  They also have really good daily two-course lunch specials are are open for lunch and dinner 7 days a week.
Buon Appetito!
Be sure to also check out some of our other helpful articles and free guides: