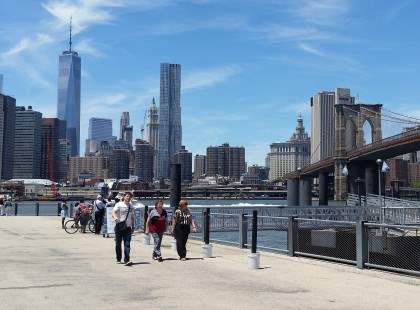 Updated February 21, 2018
by Max Vishnev
If you're planning a visit to New York City, it's always great to keep in mind all the free and cheap things to do here.
This is a very expensive city, but it doesn't have to break the bank if you know where to go.
You can visit some of the most beautiful and famous buildings, landmarks, and places in New York City without paying a dime.  To get you on the right track, check out our free Suggested 1-Day Itinerary in NYC  and Top 10 Places to Visit in New York articles.
Free Places To Visit In New York City: Parks
First-time visitors picturing skyscrapers and traffic jams will be pleasantly surprised to discover that New York City has many beautiful parks – some famous, some less so.
Here are just 5 of our favorites:
Central Park
Though only the 5th largest park in New York City (across all 5 boroughs), Central Park is by far the most famous.  In fact, with over 40 million annual visitors, it is the most visited park in America.  It's also probably the most recognizable city park in the world because of the countless movies and TV shows that have been filmed here.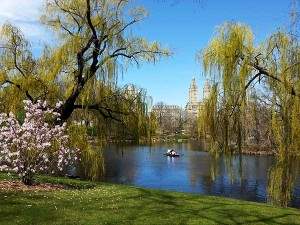 Central Park is beautiful in every season, but spring through the fall is the best time to visit, because that's when it really comes alive.  You can find buskers, street performers, free concerts, even free Shakespeare in the Park!
Or you can just hang out on a bench on the Mall and people watch in the shade of the beautiful American elm trees.
One thing you may not know is that it is completely man-made, aside from the rocky outcroppings of Manhattan Schist, carved out and exposed during the last ice age.  Every plant, pond, and path was specifically designed to be there.  Walking in Central Park is like walking in a landscape painting.
Brooklyn Bridge Park
If you want a fantastic view of the Manhattan skyline, there's no better place to go than Brooklyn Bridge Park.  It extends for 1.3 miles along Brooklyn's waterfront — from DUMBO to Atlantic Ave.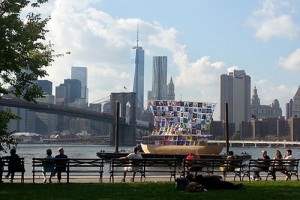 Enjoy amazing views of the Downtown Manhattan skyline, the Brooklyn Bridge, New York's Harbor and the Statue of Liberty.  Hungry or thirsty?  Head to the massive and historic 19th-century Empire Stores complex, which has been recently gut-renovated and opened to the public.  Enjoy a coffee break, a casual lunch, or a formal meal and drinks at Cecconi's (with outdoor seating options in the warmer months).
Or if you feel like breaking a sweat, you can shoot some hoops on Pier 2, go for a jog along the waterfront, or do some rock climbing at the new DUMBO Boulders at the north end of the park!   It's only $9 for a day pass.
Brooklyn Bridge Park is also home to Bargemusic – a floating chamber music venue inside a renovated coffee barge.  There is a free performance every Saturday afternoon at 4pm.  Otherwise, tickets are $40 and performances are generally Friday through Sunday all year long.  Click here to view their performance calendar.
But if the idea of listening to classical music on a barge swaying slightly in the East River is not your idea of a good time, check out St. Ann's Warehouse minutes away, located on solid ground (assuming you count landfill as "solid ground") inside the brick walls of a landmark mid-19th century tobacco warehouse on Brooklyn's waterfront.  St. Ann's Warehouse is a terrific performance arts space for cutting-edge music, art, and theater.  This is a great option for an evening of culture and entertainment away from the tourist masses and traffic around the Broadway theater district in Midtown Manhattan.
The High Line
This park in the sky is like no other, but it's inspiring other cities to imitate its success.  A dilapidated old elevated rail line on Manhattan's west side was rescued from demolition and turned into a 1.45 mile-long park above the streets.  Today, the High Line is a major tourist attraction.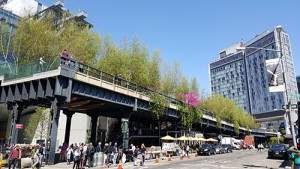 You can walk from the Meatpacking District all the way up to the new Hudson Yards project in midtown without dealing with all the traffic and stop lights.  Park designers used a lot of native vegetation for landscaping, and incorporated the original train rails into the design of the pathway.  You can walk along and get glimpses into the windows and back yards of all sorts of homes, from $20 million dollar penthouses in brand-new condos to crumbling tenements from the turn of the last century.
If you need a great coffee break along the way, take the stairs down at 20th street (near the parking lot with the stacked cars) and check out the High Line Hotel (a dark brick Gothic beauty that was formerly a seminary dormitory for young men studying to become priests).  Today, part of the building is a trendy hotel with one of the best espresso bars in New York City in their lobby café — Intelligentsia Coffee.  Look for the great interior courtyard on a nice day.
Alternatively, if you exit the High Line at 16th street (you will see a stairwell and elevator by the bathroom facility) you can stroll through the popular Chelsea Market.
Chelsea Market (just under the High Line)
This busy market is housed in what was formerly the Nabisco factory (National Biscuit Company).  From 1898 to 1958, Nabisco produced its biscuits, cookies, and crackers in this enormous industrial complex.  The building is also kind of famous for cookie lovers – it's the birthplace of the Oreo cookie (invented here in 1912)!
Chelsea Market opened in 1997 and today is probably New York's most popular indoor market.  It is home to an eclectic mix of local food vendors – from seafood to tacos to mini doughnuts.  There is a great espresso bar in the middle of the market called Ninth Street Espresso, a wine bar, a great book store, even a flea market (the Chelsea offshoot of Williamsburg's popular Artists & Fleas.  There are also several sit-down restaurants inside the Market, including Rana (Italian), Friedman's Lunch (American), Cull & Pistol (oyster bar), and others.
Chelsea Market occupies an entire block on Manhattan's west side, between 9th and 10th Avenue and 15th and 16th street.  Enter at 9th or 10th Avenue.  By the way, if you like keeping tabs on real estate happenings, Google just bought the entire building for a reported $2.4 billion.
Washington Square
This popular square in the heart of Greenwich Village is one of the best places in New York City to enjoy free live music and do some people-watching.  On a nice day, you can enjoy jazz, blueglass, classical piano, drum solos, sand painting, and all kinds of impromptu performances that can only take place in a public space known for its openness and diversity.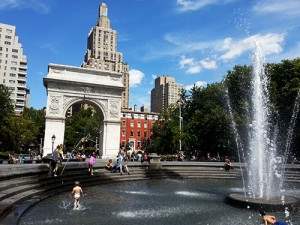 So grab a great cup of coffee from Stumptown Coffee Roasters on 8th street and MacDougal or Third Rail Coffee at Sullivan and West 3rd street, then find a bench facing the classical Washington Memorial Arch and just soak in the scene, as NYU college students hurry along to their classes.
Just try not to think about the 20,000 dead bodies buried underneath the park (it was a potter's field from 1797 to 1826, and NYC did not have clean water sources at the time).
Madison Square
Washington and Madison Square have some things in common:
They are both named after US Presidents (1st, George Washington; 4th, James Madison)
They were both used as burial grounds for poor people ("potter's fields") in the late 1700s.
Madison Square is adjacent to one of NY's most famous early 20th century skyscrapers – the triangular Flatiron Building.  It's also home to the original Shake Shack burger joint, which opened in park kiosk in 2004.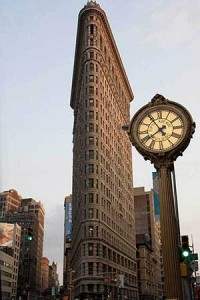 And across from the park is the popular Italian food market and restaurant space called Eataly, which features two espresso bars, a wine bar, several restaurants, and a rooftop beer garden!
Free Things To Do In New York City: Museums
Many visitors don't realize that a lot of the museums in New York actually go by a "pay-what-you-wish" admission.  Their listed prices are really only suggested donations.  If you don't feel like waiting on the long lines for a ticket, you can go to a kiosk, where you'll be charged full admission, but if you do wait in line, you can pay whatever you feel like.
These "pay-what-you-wish" museums include NY's two flagship museums:
The American Museum of Natural History and the Metropolitan Museum of Art (as well as the Cloisters).
Here's a convenient list by NYC-Arts that compiles all the museums with pay-what-you-wish admission or free admission days/hours.  Also, be sure to check out our Museum-related posts:
In addition to some of the best museums in New York City, the list includes the Bronx Zoo, NY Aquarium, Brooklyn Academy of Music, and botanical gardens.  You can spend your entire NYC visit just wandering around museums for free.
Summers at Coney Island
The beach and amusement season at Coney Island begins at the end of May (Memorial Day) and runs through early September (Labor Day).  The historic oceanside area was once known as the People's Playground and the Nickel Empire, because for the working class immigrant masses crowded in NY's tenements, it provided much needed respite, sun, and fresh air for only a 5-cent subway fare.
Once these overworked, pale, and tired New Yorkers got off the subway at the last stop, they could cross the street and buy a hotdog from Nathan's for the same price as the subway fare (the subway fare remained a nickel until 1948, when it was finally raised to a dime).
Today, a subway ride to Coney will cost you $2.75 (if you buy multiple rides), while a Nathan's hotdog will run you about $4!  By the way, if you're not sure how to use the NYC subway to get to Coney Island, check out our detailed NYC subway guide for beginners.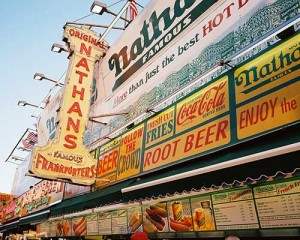 Speaking of Nathan's:
The original hotdog location on Stillwell Avenue recently celebrated its 100th anniversary, which also marks the 100th anniversary of the famous (and gross) hotdog eating contest every July 4.  The record is held by Joey Chestnut, who swallowed 72 hotdogs and buns in 10 minutes!
Check out this 3-minute ESPN video profile of the record-holder and the "science" behind competitive eating contests.
As for things to do Coney Island, besides eating hotdogs (or candied or caramel apples with nuts from William's Candy Shop next door to Nathan's), the list is long.  Lying on the beach is almost an afterthought at Coney Island because there's so much to do here.
Take a spin on the famous Wonder Wheel, which opened in 1920, or a hair-raising ride on the wooden Cyclone rollercoaster circa 1927!
Then "bump your ass off" on the Eldorado bumper cars, which managed to survive the recent renovations and development changes.
The Coney Island Museum is only $5 for adults, $3 for kids, so it's worth a quick stop in to find out more about the history of this old resort area of New York.
There is also the always-entertaining Coney Island Circus Sideshow ($10 for adults, $5 for kids), featuring sword swallowers and fire eaters.
In the summer months (June through August), enjoy some fireworks at Coney Island, starting at 9:30 and Flicks on the Beach each Monday at 8pm.
Brooklyn Flea
This flea market started on the Williamsburg waterfront, but can now be found Saturdays in Fort Greene and Sundays in DUMBO.  It's technically not seasonal, as they move indoors in Williamsburg during the winter, but it's just much more fun to shop outdoors!  Vendors can change every week, so there's always something new to peruse.  The Flea features a combination of used and vintage items, as well as hand crafted items made by local artisans.
There are also several popular local food trucks there to keep you sated and happy while browsing.
For more info, visit brooklynflea.com.
Where: 80 vendors under the Manhattan Bridge Archway in Dumbo, Brooklyn (take the F train to York st).
When: Every Sunday, from 10am to 5pm
Smorgasburg
What started as a collection of food vendors on the Williamsburg waterfront as complement to the Brooklyn Flea has spread out all over the city, and even to Kingston, NY and Los Angeles!  You can find lobster rolls, artisan chocolate, bratwurst, and po'boys, as well as some more exotic fare, like Asian fusion hot dogs, oysters, Indian dosas, and many more.
You can find Smorgasburg Saturdays at their original location on the Williamsburg waterfront, Sundays in Prospect Park in Brooklyn.
Outdoor Movies
Watching movies outdoors in the parks has been a tradition in NYC for decades, and it's only getting more popular as our parks get cleaner and safer.  Show up early for a good spot, and make sure you bring friends, a picnic, and a blanket (don't be a jerk and try to bring a chair and block people behind you).  The movies start when the sun goes down, so a small flashlight is handy to make sure you don't leave anything behind in the grass.
You can check out the NYC Parks website for upcoming films, but you'll have to keep checking as the summer gets closer for all events to be posted.
Outdoor Concerts
The NY Philharmonic recently celebrated 50 years of free outdoor performances in NYC's parks.  Every summer, the orchestra visits the five boroughs, and the lawns are packed with listeners.  In addition to the Philharmonic, the NY Metropolitan Opera also gives its own free outdoor performances in the summer.  Get there early to claim a nice big spot – bring a bigger blanket than you'll need, because it'll give a buffer for people to step on to get around you when there is absolutely no room left and people are trying to find their friends or get to the port-a-potties.  Pack a picnic dinner and enjoy the music (drinking alcohol in public is technically not allowed in NYC, but if you bring a box of wine or pour it into a thermos and don't become a drunken fool, no one will bother you).
Now get out there and enjoy New York City!