Are you looking for a fun and original gift idea for a special occasion like a birthday, anniversary, romantic weekend getaway, or graduation?  We believe giving the gift of a CityRover walking tour is just the way to go.  You won't have to worry about driving to stores, waiting in lines, and wasting time browsing shelf after shelf of boring fare.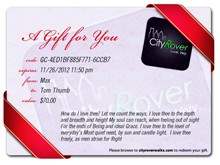 Purchasing a CityRover Gift Certificate is as simple as it sounds, but here are the basics:
Specify the gift amount and pick a date to send it
Choose the delivery option and add a personalized note
Gift recipient then has a year to redeem it
The gift certificate value can be applied towards booking any of our tours, even private tours.  To get a sense of our current tour pricing, please view our latest tour pricing page (rates subject to change).
To give the gift of a CityRover walking tour to a dear family member, a trusted friend, a kind relative, a great neighbor, or a respected colleague, please click here.
Already have a gift certificate?  Check its value and expiration date below:
The following terms apply to a purchase of a CityRover gift certificate:
Gift certificates are non-refundable.
Gift certificates expire one year after date of purchase.
CityRover tours and prices are subject to change.
Gift certificates can be redeemed by anyone in possession of the unique certificate code.  CityRover is not responsible for lost or stolen gift certificates or codes.
The gift recipient will be required to accept our Terms of Service during the redemption process.  Current Terms can be viewed here.