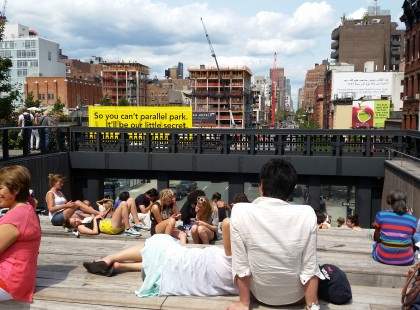 by Max Vishnev
Last updated January 20, 2018
An Introduction to the High Line in New York City
What is the High Line?
The High Line is a unique elevated park built on an abandoned elevated freight line on the west side of Manhattan.
The history of New York City is full of firsts:
First Presidential inauguration
First ticker tape parade
First transatlantic telephone call
First pizzeria in America
Just to name a few.
And recently, another "first" has been added to an already long list:
America's first elevated park.
The High Line is an important part of our self-guided tour of the Top 10 Places to Visit in New York City.
Or if you want to learn more about the High Line and its incredible transformation on a fun private walking tour with a professional local guide, please join our highly-rated High Line tour, which also explores parts of Chelsea and the Meatpacking District, as well as the historic neighborhood of Greenwich Village (and you'll enjoy a delicious slice of pizza along the way!).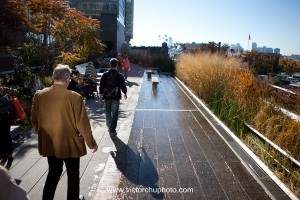 Now to answer some Frequently Asked Questions about the High Line:
"Where does the High Line start and end?"
The High Line starts at Gansevoort and Washington Street in the Meatpacking District (right near the new Whitney Museum) and ends at 34th street and 11th Avenue.
"How long is the High Line?"
The High Line is 1.45 miles or 2.33 kilometers in length.
"Where are the entrances to the High Line?"
The High Line has multiple entry points — accessible either via stairs, elevator, or both.
Here is a detailed map of the High Line (PDF)
And here is a list of access points from south to north:
Gansevoort street (where it begins): Stairs and elevator
14th street: Stairs and elevator
16th street: Stairs and elevator
18th street: Stairs
20th street: Stairs
23rd street: Stairs and elevator
26th street: Stairs
28th street: Stairs
30th street: Stairs and elevator
34th street: ramp down to street
"Are there bathrooms on the High Line?"
Yes, one at the southern tip (just as you go up the stairs from Gansevoort street), and one at 16th street near the stairs and elevator.
"Does the High Line ever close?"
The High Line has seasonal hours of operation:
Winter (December 1 thru March 31): 7am to 7pm
Spring (April 1 thru May 31): 7am to 10pm
Summer (June 1 thru Sep 30): 7am to 11pm
Fall (Oct 1 thru Nov 30): 7am to 10pm
You should check their Twitter feed for the latest weather-related closures and hours of operation.
"How long does it take to walk the High Line?"
As long as it would take you to walk 1.5 miles.  Of course, on weekends, especially in the warmer months, the High Line gets pretty crowded, so your walking pace might be determined by crowd levels.  Remember, the High Line is a linear structure, so shared walking space becomes an issue as crowding increases.
If it's not crowded (mornings and weekdays are usually the least crowded times), you can probably walk it in about 30 minutes.  Of course, part of the experience is to stop and admire the views, take pictures, take a break on a bench to people-watch.  So give yourself at least an hour.
You can also take a detour into Chelsea Market — the old cookie factory turned popular indoor market — for food, drinks, souvenirs, or even for some shopping.  Chelsea Market has an entrance right under the High Line on 10th Avenue, between 15th and 16th street.
The High Line is a unique public park.
You only have to enter one of its elevators and press "H" to realize its uniqueness.  We don't typically take elevators to get to parks.  And when you get out of the elevator, it's like you've landed somewhere else.
Suddenly, the honking cabs and loud trucks are 30 feet below; grass, flowers, and trees have replaced street lights, manhole covers, and concrete sidewalks.
And the city opens up around you.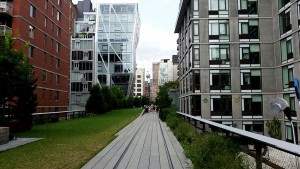 There are lots of things you can do on the High Line:
You can sit on a "peel-up" bench and do some people watching.  You can get a tan on one of the wooden lounge chairs on the sundeck, which is just south of 15th street and the old Nabisco complex (now Chelsea Market).  You can watch the traffic go by from the 10th Avenue Square.  You can stroll along and admire the variety of old factories and warehouses juxtaposed with brand-new steel, glass, and concrete luxury condos.  You can even get food, coffee, or gelato in the old Nabisco tunnel.
The High Line has also become one of the most popular attractions in New York City.
With nearly 60 million tourists visiting New York City each year, the High Line is getting its fair share of foot traffic (to the chagrin of some local joggers).  What was once a long-forgotten structure of a bygone era in a seedy part of town is currently in the Top 10 "Things to do in New York City" according to TripAdvisor, with more than 50,000 reviews.
Its popularity and tremendous success has pushed the idea of adaptive reuse to new heights and given other "crazy" ideas like the proposed lowline on Manhattan's Lower East Side a realistic chance of success.
And other cities around the world are now looking at the High Line's transformation story and analyzing their own abandoned railways and highways in search of the next "High Line" idea.
From an eye sore to an attraction:
The incredible thing is how obvious the idea now seems.  "Of course we should take a rusty, graffiti-covered abandoned rail viaduct above the streets of Manhattan's West Side and turn it into a popular elevated park!"  But this couldn't be further from the truth.
If you were to take a survey 20 or 30 years ago and ask New Yorkers walking by the derelict elevated structure if they thought converting it to a public park would be a good idea, they would probably look at you incredulously and question your sanity.  Most people thought of it as an eye-sore and probably didn't even know when or why it was built in the first place.  Tourists certainly had no reason to visit the area.  The abandoned structure was ripe for demolition, and it was just a matter of time.  Or so people thought.
Today, the High Line is synonymous with luxury real estate.
After having been saved from imminent destruction by two fearless young locals at the start of the 21st century, it has spurred billions of dollars in real-estate development.  Just take a stroll on it and count the number of new luxury buildings and construction sites (for even more luxury buildings).
Penthouses atop two new buildings flanking the High Line are being marketed for $20 million (and up!).  To add cachet and help attract foreign buyers (and domestic hedge fund types), developers have been recruiting "celebrity" architects like Jean Nouvel, Norman Foster, and Zaha Hadid (among others).  Frank Gehry designed his first building in New York City not in Midtown or Downtown, but — you guessed — near the High Line.  The IAC Building he designed, completed in 2007, serves as the headquarters for Barry Diller's media company.
Speaking of Barry Diller…it's important to mention that he and his wife, Diane von Furstenberg, have been huge supporters of the High Line from its infancy as a "wild" idea in 2000 to its completion as a 1.5-mile park in 2014.  In fact, they are the biggest private donors to the Friends of the High Line, with at least $35 million donated to date!
Which brings me to another key point:
The High Line is a public park financed by private donations.
The Friends of the High Line (the non-profit that manages and maintains the elevated park) has to raise 98% of its annual budget (more than $4 million these days).  The city covers the rest.  That's a lot of money to raise each year from private sources.
Of course, it doesn't hurt fundraising efforts that Google owns an entire city block 5 minutes away and that many of its well-paid employees live near the High Line.
But you don't have to be a media mogul or a Google employee to contribute.  Anyone can become a High Line "member" and support this unique public space, which gets 98% of its funding from private sources (not the NYC Parks Dept).
So next time someone pitches an idea that seems completely outlandish and unrealistic, don't write it off right away.  You never know, it might just be the next "High Line"!