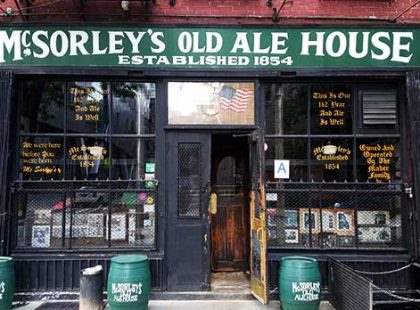 To step into McSorley's Old Ale House is to take a trip back in time.
To a time when the Lower East Side portion of Manhattan was full of poor European immigrants living in dark, overcrowded tenements and working in factories and sweatshops, or on the docks and construction sites; a New York before sanitation grades were displayed in bar windows; before bellini brunches and specialty craft beer lists; before hot showers in every apartment; before antibiotics.
A trip back to a New York where robber barons lived in Fifth Avenue mansions and the "riff-raff" fresh off the boat worked 6 days a week for a dollar or two per day only to die of tuberculosis or typhoid fever a year after their arrival.
In 19th-century New York pubs were as commonplace as Starbucks and Chase Bank locations are today.  Perhaps more so.  And unlike the many trendy bars all over the city today, with their happening happy hour and pick-up scenes, the pubs of old were often smelly, noisy, crowded, male-only affairs.
McSorley's would have probably remained a male-only establishment if a legal ruling didn't force them to open their doors to women in 1970 — much to the chagrin of many long-time patrons!
This unique saloon has always been about hanging on to tradition.  It is believed that no single piece of memorabilia hanging on the old walls has been removed since 1910.  Some go back to the Civil War era, like the original "WANTED" poster framed behind the bar after President Lincoln was assassinated by John Wilkes Booth.
Sometimes, tradition clashes with modern regulations, though.  Like when the NYC Health Department told the bar owner a few years ago to either remove or at the very least dust off the old wishbones hanging above the bar.  These bones, allegedly left by neighborhood boys about to go off to Europe during the Great War as a good luck charm, were white with countless layers of dusk.
The owner finally had the wishbones dusted, but just like the decision that allowed women inside, the dusting was not a proactive measure.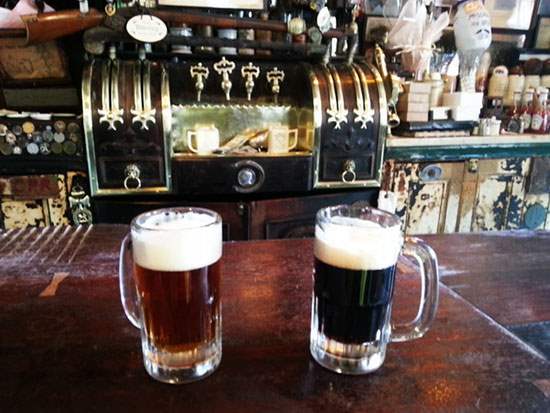 McSorley's, founded in 1854 (at least according to the bar, since others have called that date into question), was by no means unique, as far as 19th century ale houses go.  In fact, other surviving establishments can claim the title of oldest bar in NYC.
There was saw dust on the floor to absorb spilled beer, dirt, mud, saliva, vomit, and blood.  Wooden floors, tables, and chairs complemented a wooden bar.  Communal tobacco pipes were passed around, as were communal white towels to wipe walrus mustaches between pints.  Metal buckets served as spittoons, and free snacks (typically salty) were available with the purchase of an ale.  Women were shown the door.
In fact, the bar's official slogan for more than a century was "Good Ale, Raw Onions, No Women"!
What makes it unique today is that fact that it has hardly changed while the city has been completely transformed around it.  The Irish and German immigrants no longer fill ale houses and beer halls in the area, luxury condos and hotels now share streets with renovated tenements, and wealthy patrons are now as likely to check out the latest brunch or cocktail spot Downtown as they are to venture Uptown.  Skyscrapers have replaced church steeples as the tallest structures around and Uber cars have replaced horse-drawn carriages and omnibuses.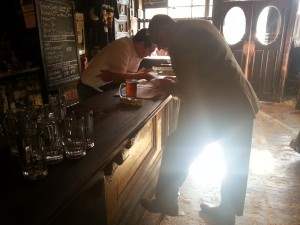 Granted, some things about McSorley's have changed.  The following are just some of the things that exist today that would not be found in the McSorley's of the mid-19th century:
A payphone inside that also acts as the business phone when someone calls
The newly installed flat-screen TV (which looks totally out of place)
The ladies' bathroom (added in the 1980s, about 15 years after the legal ruling)
The spittoons are gone, as are the communal tobacco pipes and towels (though you can see some of the old pipes hanging on the wall).   The swinging saloon doors haven't changed either (you can see the wear-and-tear from countless boots kicking them open).  And the long-time Irish staff members still sprinkle fresh saw dust on the floor every morning and shovel coal into the restored pot-belly furnace on cold winter days.
The beer selection is still the same, though: light or dark ale.  That's it!
And unlike the corporate chains that dominate many parts of New York, McSorley's is still family-owned (though not by anyone named McSorley), as is the entire building.  In fact, this is the main reason the bar still exists.  And we can only hope they'll be sprinkling fresh saw dust and serving cold ale in 2054.
Quick note about ordering: When you order a light or dark ale, "1" order is actually 2 half-pint glass mugs.  And if you don't drink beer, they have coke and ginger ale.
To experience this amazing bar first-hand, join our highly-rated small-group walking tour called City of Dreams.  Light or dark ale on us!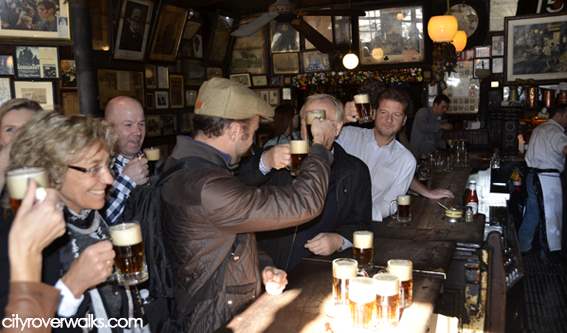 Or get in touch with us about a customized NYC bar crawl!
And be sure to check out our other helpful NYC guides.