Private NYC Food Tour and Bar Crawl Customized For You
Allow CityRover to create a fully customized, delicious, and immersive NYC food tour and/or pub crawl experience for you!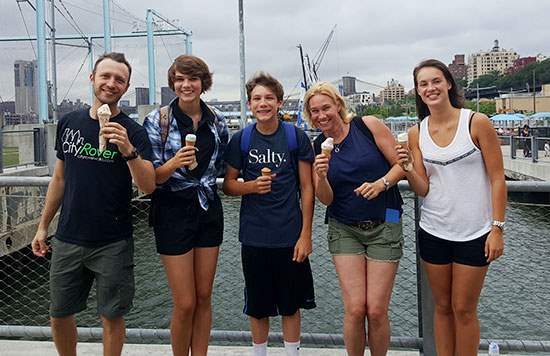 We'll create a private NYC food tour to satisfy even the most tour-phobic members of your party!
Because, let's face it – it's hard not to enjoy eating, drinking, and sightseeing your way through New York!
We can personalize a tour for couples, families (with or without young children), groups of friends, team outings, and other special events.  We can tailor something for your specific needs and wants.
Coffee addicts?  Us too!  Pizza lovers?  You've come to the right place.  In the hunt for the best NYC bagel?  We know the spots.
And unlike a lot of the cookie-cutter NYC food tours out there, you won't be sampling cupcakes on a busy sidewalk in a large group!
New York City has a mind-boggling variety of great places to eat and drink!
The problem for most tourists is finding the great local spots, while avoiding tourist-traps.
And that's where we come in!
As proud New Yorkers and licensed tour guides, we happily offer customized food tours for private groups.  We'll regale you with interesting historical anecdotes and city lore, take you to famous old pubs for cold refreshments, and keep you sated with some of the best local food stops in NYC.
Here are just some food tour themes to give you a sense of the possibilities:
Jewish Lower East Side Food Tour: bagels, bialys, pickles, knishes
Chinatown Food Tour: Dumplings, moon cakes, lychee ice cream
NYC Pizza Tour: Custom "best pizza in NYC" tour
"Sweet-tooth" Food Tour: chocolate, ice cream, desserts
"Best of NY" Food Tour: bagels, pizza, ethnic food
And here are a couple ideas if you're looking for an NYC pub crawl:
Historic Pub Crawl
Craft Beer Bar Crawl
Private Tour Pricing:
Since each private food and/or bar tour is unique due to the customized nature of each tour, we will provide a price quote upon request. 
That said, here are our standard private tour rates, which you can use as a guide.  The rates below cover your time on a custom NYC tour with your own CityRover guide, but do not include food or bar stops.
Prices below are for the group (not per person):

Notes:
For larger parties and/or custom tour length, quotes can be provided upon request.
Listed tour price does not include cost of public transportation (if necessary)
Cost of food or bar stops is not included.  Contact us for a custom quote.
Mode of Transportation:
We get around on foot and by using the subway when needed.