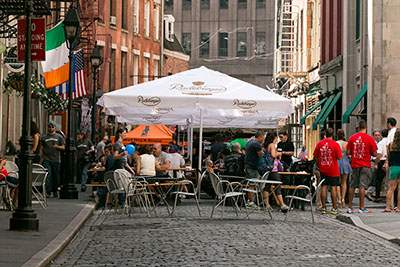 You will find some of the best places to eat and drink in New York City on a narrow cobblestone street in the heart of the Financial District called Stone Street.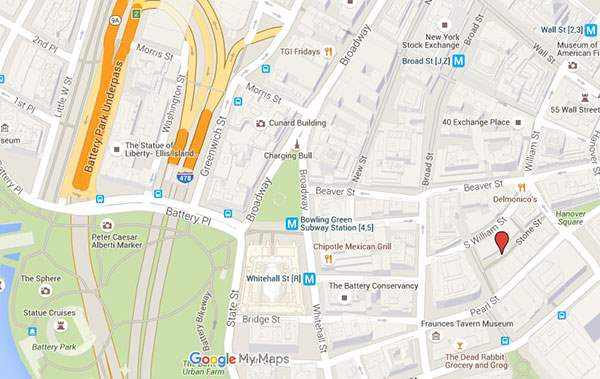 So whether you're taking a free ride on the Staten Island Ferry, visiting the Statue of Liberty and Ellis Island, strolling along Wall Street, or paying tribute at the 9/11 Memorial, a break on Stone Street is a must.
Planning your NYC visit?
Click here to get on our email list, and we'll send you 5 of our super-helpful NYC guides and suggested itineraries for free!  Plus, we'll send you an exclusive $20 off code your first private tour.
A Quick Primer:
This narrow cobblestone street in the heart of the Financial District was the first street paved with stone in the city, back when it was a small Dutch farming and trading colony called New Amsterdam.  It was originally paved in 1658, when Wall Street was still a wooden wall built as a protective barrier at the northern edge of New Amsterdam.
After decades of neglect in the middle of the 20th century, Stone Street became a seedy, derelict back alley (think crack vials and trash).  It was finally restored and repaved in the 1990s and became a Historic District in 1996.
Today, this charming old street, flanked by restored lofts and warehouses from the late 1830s, is one of the best dining destinations in Downtown Manhattan.  This is especially true in the warmer months, when restaurants and bars place long wooden tables in the middle of this pedestrians-only street.
The whole vibe feels very European and helps you forget that you are on Manhattan island, better known for noisy traffic and countless skyscrapers than old-world charm.
Do you want to discover New York's layers of history, explore its architecture and famous landmarks with a professional guide?  Check out our private Downtown Highlights NYC walking tour, which will include a visit to Stone Street.  Or perhaps you're visiting NYC to see Hamilton on Broadway?  Then check out our Hamilton in NYC Walking Tour!
OK, enough history, now for the actual dining and drinking options:
Restaurants and Bars on Stone Street in New York City:
(Listed as they appear from west to east)
Note: Each listed establishment is open 7 days a week for lunch and dinner (most also offer weekend brunch)
The Dubliner
The Dubliner is a replica of a classic Irish pub with traditional pub fare, full bar, lots of indoor space, and outdoor tables in the summer.
Bavaria Bierhaus
(next to Dubliner)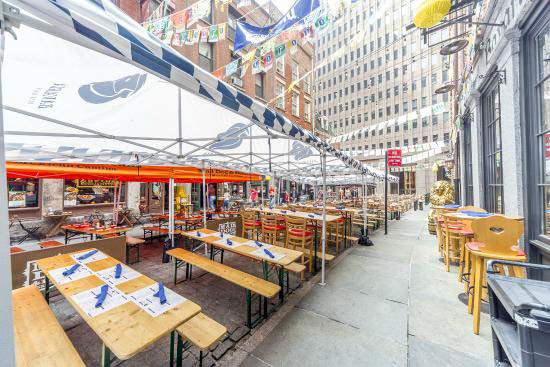 This German beer hall is a great choice if you're in the mood for a tall stein of cold German beer, a sausage, or a schnitzel.  There are 2 floors of seating inside and wooden tables outside.  And your servers will be wearing lederhosen and dirndls to add a touch of kitschy "authenticity".
Route 66 Smoke House
(across from the Dubliner)
If you're in the mood for good BBQ and cold craft beer, Route 66 Smoke House is the place for you.  Cool off inside or enjoy an outdoor meal on communal tables.  Route 66 applies an "all-American" theme to their bar menu by featuring only American whiskey and craft beer.
Stone Street Tavern
(next to Route 66)
Burgers, beer, wine, rustic wooden décor, and outdoor seating.  There are also multiple TV screens with the day's important games on.
Adrienne's Pizzabar
(mid-block)
Adrienne's is the best place for pizza Downtown.  Enjoy thin-crust brick oven pizza made to order in an inviting and upscale setting.  Adrienne's also offers salads and some baked classics like lasagna and eggplant parmesan.  Pair it with a glass of wine or a cold beer.  Outdoor seating is available in the summer months.
Vintry Wine & Whiskey
(mid-block)
Wine and whiskey lovers rejoice!  This intimate dimly lit bar & restaurant features an impressive list of wines and whiskeys from around the world, as well as craft beer and specialty cocktails.  The food menu focuses on tapas-style small plates with a heavy Spanish, Italian, and French influence.
The Growler
(next to Vintry)
The Growler is a dimly lit pub with a very strong emphasis on independent American craft brewers.  So if you like craft beer on tap, you can sample small-batch beers from around the country.  Get a hot dog or a burger to go with all that beer.
Ulysses' – A Folk House
(eastern portion of Stone Street)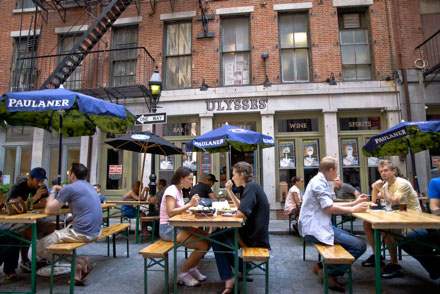 The first pub to open on Stone Street in 2003, Ulysses' has become a Financial District ("FiDi") staple.  Office workers enjoying happy hour and neighborhood locals looking for a good drink and a bite to eat make this a bustling destination for beer, wine, cocktails, and an impressive food menu that includes a raw bar.  So whether you're clamoring for clams, oysters, a gyro sandwich, or a juicy burger, Ulysses' has you covered.
Enjoy the outdoor seating if you can find a spot on the long communal tables.
Financier Patisserie
(eastern most business on the block; next to Ulysses')
Financier, which has been a cafe chain in NYC, is a good choice if you just want to get a decent cup of coffee, a fresh pastry, and to use the bathroom, while taking a break from exploring Downtown.
Fraunces Tavern
54 Pearl Street (corner of Broad Street)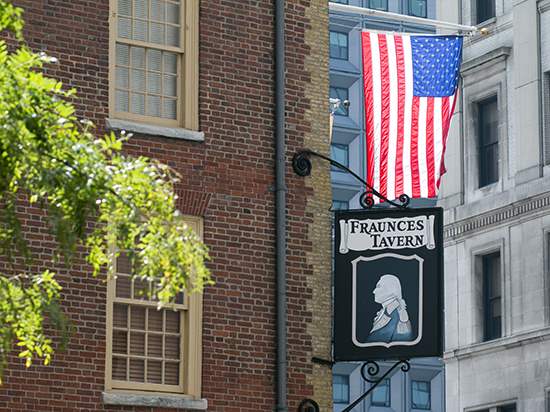 Last but not least, if you like your food, booze, and history in the same establishment, then head to Fraunces Tavern, which is a 2-minute walk from Stone Street.  It is one of the oldest and most historic pubs in New York City.  Opened in 1762 as Queen's Head Tavern, this bar has served food and booze to British officers, fervent Sons of Liberty, Revolutionary generals (including George Washington), dock workers, office workers, and everyone in between.  In fact, it was here that George Washington gave a heart-felt toast to his generals after Evacuation Day (when the last of the British soldiers occupying Manhattan left after their defeat in the American Revolution).
Fraunces Tavern was saved from demolition in 1900 by the Daughters of the Revolution, then restored under new ownership of the Sons of the Revolution in 1907.  Today's building may or may not look like the 18th century version of George Washington's epoch.  The restoration architect couldn't find a painting of the building before the first major fire in 1832, so its appearance today is based on the architect's faithful interpretation of colonial-era styles (basically, his "best guess").
Today's Tavern features a rustic restaurant space, popular for power lunches during the work-week, and multiple bar rooms featuring an impressive menu of craft beers and whiskeys, as well as good bar food.  You'll find wooden decor and even an old musket hanging above one of the bars.
After your meal, head upstairs to visit the Fraunces Tavern Museum (open 7 days a week, $7 admission).  Check out the Flag room, as well as the recreated 18th century "Long Room", where Washington would have toasted his officers in 1783 at the victorious end of the Revolution.