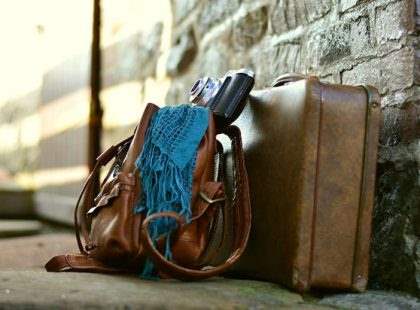 by: Michele DeBella
I hope you're planning your New York City adventure with a mixture of unbridled excitement and level-headed practicality. It's not always easy to decide what to pack for a trip to a city where you'll be walking a lot, going to restaurants and plays, shopping, and maybe visiting a museum or two. Add to that the unpredictability of the weather in the Northeast. You'll mostly rely on your common sense and prior traveling experience, of course, but here are some suggestions for essentials to pack for New York City.
Clothes to pack for a trip to NYC:
As you contemplate your wardrobe choices, keep one word in the forefront of your mind: comfort.
First reason:
Tourists are expected to dress casually (unless you're going to the Metropolitan Opera). How can you traverse this city of walkers if you're more concerned with fashion than comfort?
Second reason:
New Yorkers are generally both accepting and self-absorbed. We are such a diverse city that no-one really stands out, and even the craziest outfits don't really faze us.  Also, we're too busy to be bothered by someone's outfit, so unless you're walking around Times Square completely naked, you will not attract any attention.  Even if you ARE naked in Times Square, most locals will be too busy texting while walking to notice you.
Fancy or casual?
OK, maybe you've planned a special dinner and want to break out the fancy clothes you don't often get to wear. Do it! You certainly won't be out of place. But restaurants are used to serving tourists. They just want to feed you and hand you the bill. For a Broadway play, a ballet performance, or any other form of theater or live entertainment, casual dress is fine, though fancier attire is definitely not discouraged.
NYC Weather concerns
So what does all this talk of comfort boil down to in a city with such volatile weather? Summer can bring pleasant, breezy days as easily as sweltering, humid misery. There might be a blindingly sunny day in March or a day where frigid winds bring tears to your eyes. Layer up! Even in the warm weather months, a light sweater or jacket comes in handy, especially in the morning and evening. April thru June can still bring chilly days and nights, in the same way autumn slips in some summer-like days. Winter requires all the basics: hat, scarf, gloves—whatever you usually do to keep warm.
In fact, there are days when the temperatures can fluctuate by 10, 20, or more degrees Fahrenheit from morning to evening.
Footwear
Do you have winter boots that will keep your feet warm and dry, even if you step in an icy puddle that deceivingly reaches up to your shins? It happens to the most seasoned of us every winter, so please evaluate your footwear. Also, pack a sturdy pair of walking shoes. They make pretty comfortable sandals nowadays, so by all means, bring those in warmer months, but please, save your flip flops for the beach. They're not supportive enough for walking on concrete all day, and they're definitely not protecting your feet from street grime.
Accessories
Sunglasses are a required accessory all year long. Remember those blindingly sunny days I mentioned earlier? Even in the winter, the sun bounces off the city's gleaming skyscrapers (and the occasional piles of snow), creating an uncomfortable glare. In the summer, sunscreen and a sunhat are also vital. A thin scarf or sarong will come in handy for picnics in the park.
But don't stress, if you didn't bring a seasonal accessory like a hat, gloves, scarf, or sunglasses, cheap versions are readily available on numerous street corners, especially in the tourist-heavy parts of Manhattan like Downtown and Midtown.
Shopping
Shop-til-you-drop types will fit right in with a carry-on size rolling suitcase in all the major shopping districts. Bring an empty one with you, or buy one when you arrive. I cannot stress enough how exhausting a day of New York City shopping can be. Not being laden down with bags strapped up and down your arms makes for a much nicer experience. A small backpack will be useful for water, snacks, and any souvenirs you pick up. Wallets and other valuables should remain in a front pocket or purse. New York's crime rate has plunged in recent decades, and we really don't have a problem with pickpockets, but there's no reason to tempt fate.
Technology
The city's grid system makes it easy to navigate, but the streets in older neighborhoods like Greenwich Village and the Financial District are more maze-like. Whatever neighborhood you're headed to, a map is a must. Those maps drain smartphone batteries, so don't forget to pack a portable charger as a backup.  Or go old-school and buy an actual map!
Miscellaneous
A compact umbrella could be called into action any time of year.
Ear plugs and night shades may be a life-saver if there's more noise or light in and around your hotel than you're used to.
Bandages for the annoying blister that might appear from all the walking (though there is usually a chain drug store on every 3rd corner in Manhattan)
Pain reliever for the siren-and-crowd induced headache
If you have a selfie stick, please consider leaving it at home. New Yorkers really dislike tourists with selfie sticks, because we often have to dodge them as we traverse busy sidewalks or walk through famous buildings.  Aside from common courtesy, please be aware that most major museums, as well as Yankee Stadium have banned them.  If you want a photo with you in it, just ask someone, like our parents or grandparents would have done.  That brief human interaction will also enhance your experience.
Cash or Credit?
It's a good rule of thumb to carry cash, but not too much, not because you might get mugged, but because you might lose it.  Some small businesses, including restaurants, don't accept credit or debit cards.  However, this "old school" cash-only model is becoming less and less common.  In fact, the opposite is now true in some cafes, where only credit cards are accepted.
So have both on hand — cash AND credit.